Mizoram minister visits swine fever-hit village as pig death toll reaches 276
The death toll of pigs in Mizoram's Lunglei district reached 276 on Thursday, even as state animal husbandry and veterinary minister Dr K Beichhua visited the "infected area" to take
The death toll of pigs in Mizoram's Lunglei district reached 276 on Thursday, even as state animal husbandry and veterinary minister Dr K Beichhua visited the "infected area" to take stock of the situation, an official said.
Although the cause of pig deaths reported at Lungsen village is yet to be ascertained, preliminary tests have already hinted to African Swine Fever (ASF) as the cause.
Lungsen, a village close to the Bangladesh border, is located about 57 km from Lunglei town. The first pig death was reported in the village on March 21.
State animal husbandry and veterinary department joint director (livestock health) Dr Lalhmingthanga said that the death toll reached 276 as the latest report came in at 2 pm on Thursday. Pig samples reached Bhopal on Thursday and the results are expected soon, he added.
He said that National Institute of High Security Animal Diseases (NIHSAD) will directly declare the cause of the deaths after analysis.
According to the official, pig deaths are also reported in at least three villages of Mamit district, which borders Bangladesh and Tripura. The actual figure from the three villages is yet to be confirmed, he said.
He added that samples were collected from the three villages in Mamit district for laboratory test.
Meanwhile, Beichhua visited Lungsen village on Thursday to take stock of the situation. He also interacted with community leaders and officials there.
The minister expressed regret over the incident and said that the state government is making a massive effort to contain the outbreak. He also visited burial grounds and inspected the safety measures being taken while burying pig carcasses.
The government has already declared Lungsen village as "infected area" and prohibited movement of pigs in and outside the village.
It is worth mentioning that 22 crore rupees has been earmarked in the recent budget session for the development of the Urban Towns and a separate fund of Rs 15 crore has been earmarked for both Pasighat and Itanagar Municipal Corporation.
(Visited 1 times, 1 visits today)
First Published: 10th April, 2021 15:27 IST
COMMENTS
WE RECOMMEND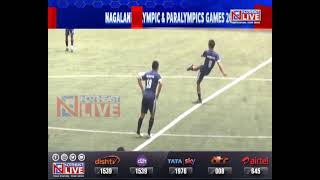 2nd edition of Nagaland Olympic & Paralympics Games 2022 begins today
𝐍𝐚𝐠𝐚𝐥𝐚𝐧𝐝 𝐎𝐥𝐲𝐦𝐩𝐢𝐜 𝐚𝐧𝐝 𝐏𝐚𝐫𝐚𝐥𝐲𝐦𝐩𝐢𝐜𝐬 𝐆𝐚𝐦𝐞𝐬 𝟐𝟎𝟐𝟐 | 𝐍𝐨𝐫𝐭𝐡𝐞𝐚𝐬𝐭 𝐋𝐢𝐯𝐞 | The 2nd edition of Nagaland Olympic and Paralympics Games 2022, "Football event", kick started today at Indira Gandhi stadium, Kohima, organized by Nagaland Olympic Association (NOA). (Visited 5 times, 1 visits today)
17th August 2022