New Committee to manage affairs of Assam's famous Azan Pir's Dargah
In a positive development, the two committees of the historic Azan Pir Dargah in Assam's Sibsagar, which were entangled in a dispute for years, have decided to go for an
In a positive development, the two committees of the historic Azan Pir Dargah in Assam's Sibsagar, which were entangled in a dispute for years, have decided to go for an out-of-court settlement. Not only this, in a meeting on February 26th, a decision was taken to dissolve the two committees while an ad hoc committee was formed.
A decision was also taken to form a full-fledged committee during the general conference at Azan Pir Dargah Sharif premises in November this year.
The development assumes great significance as the premises of the Azan Pir Dargah in Sivsagar had been left in near shambles due to the dispute between the two committees which had stalled the normal functioning of the Dargah.
Following the breakthrough, the two committees have decided to withdraw the legal case pending at a Munsif court in Sivsagar. A request will also be made to the Gauhati High Court to stop the litigation. Not only this, after the closure of the legal case, the ad hoc committee will take charge of the donation boxes, and money realised thereafter will be used to meet the pending expenses of the Dargah.
This is indeed a welcome development considering the fact that the tussle between the two committees over rights to control the affairs of the dargah had brought all activities to a near standstill in the revered place for months.
Northeast Live Editor in Chief Wasbir Hussain, who played a key role in bringing the committees together, lauded the development and termed it a welcome move that will ensure the restoration of normalcy in the day-to-day affairs of the dargah. Addressing media persons in Sivsagar through video conferencing, Hussain gave a background of how things fell in place.
Hussain stated that Assam Chief Minister Himanta Biswa Sarma had also wished for an amicable out-of-court settlement of the dispute and restoration of the past glory of the revered shrine of the 17th century Sufi saint who also preached the ideals of Srimanta Sankardev. He added that it was time that the new committee with the help of the government restores things as they ought to be.
It may be mentioned that Azan Fakir was a 17th Century Muslim preacher and Sufi saint who ended up tying local Muslims and Hindus in a bond of harmony. As such Assam is also known as the land of Shankar Azan, meaning Srimanta Sankardev and Azan Fakir.
(Visited 5 times, 1 visits today)
First Published: 3rd March, 2022 21:51 IST
COMMENTS
WE RECOMMEND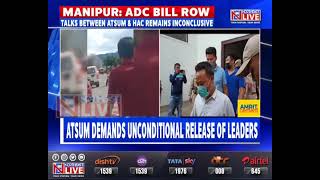 3 round of talks between ATSUM & HAC remains inconclusive
Despite 3 rounds of talks between the All Tribal Students Union Manipur and the Hill Areas Committee over the ADC Bill, 2021 and the arrest of 5 ATSUM leaders, efforts remained futile as the two sides failed to come to an agreement. (Visited 1 times, 1 visits today)
08th August 2022