NEIAH protest
First Published: 15th March, 2018 12:04 IST
Over 200 students of the North Eastern Institute of Ayurveda and Homeopathy (NEIAH) in Shillong staged protest protest demanding hostel facilities in the institute. The students have boycotted classes demanding
Over 200 students of the North Eastern Institute of Ayurveda and Homeopathy (NEIAH) in Shillong staged protest protest demanding hostel facilities in the institute.
The students have boycotted classes demanding hostel facilities or a subsidy so as to enable them to afford accommodation outside the campus.
The North Eastern Institute of Ayurveda & Homoeopathy is an autonomous institute established under the Ministry of AYUSH.
COMMENTS
WE RECOMMEND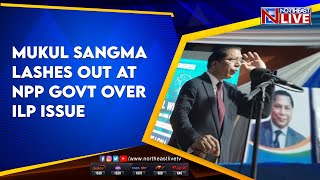 Mukul Sangma lashes out at NPP Govt over ILP issue
The Opposition TMC on Friday lashed out at the NPP led MDA government and accused it of betraying the people and playing with their sentiments as far as the demand for the implementation of the Inner Line Permit is concerned.
10th December 2022