Meghalaya load shedding: Normalcy to return in next 36-48 hrs
Normalcy will return to Meghalaya in another 36-48 hours as far as the load shedding issues in the state are concerned, this was revealed by Chief Minister Conrad Sangma who
Normalcy will return to Meghalaya in another 36-48 hours as far as the load shedding issues in the state are concerned, this was revealed by Chief Minister Conrad Sangma who informed the power woes will be addressed and resolved by the State government.
The development comes with Power Minister James Sangma's visit to New Delhi where he met with the Union Power Minister to resolve the load shedding issue of the state.
The Chief Minister further added that final discussions, agreement and necessary formalities will be completed today, hence the Government expects normalcy to return in the next 36 hours to 48 hours.
In a first for the state, the National Thermal Power Corporation will be regulating power to Meghalaya. Sangma said it is surprising on the part of NTPC as Meghalaya do not buy any power from NTPC.
He informed that NTPC regulates the supply of power for Meghalaya from other Power generating companies, however, NTPC does not directly supply any power from their own generation as the state does not buy from NTPC.
(Visited 1 times, 1 visits today)
First Published: 5th March, 2021 21:43 IST
COMMENTS
WE RECOMMEND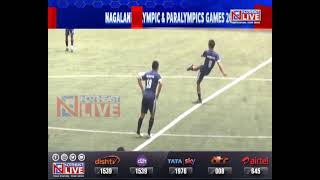 2nd edition of Nagaland Olympic & Paralympics Games 2022 begins today
𝐍𝐚𝐠𝐚𝐥𝐚𝐧𝐝 𝐎𝐥𝐲𝐦𝐩𝐢𝐜 𝐚𝐧𝐝 𝐏𝐚𝐫𝐚𝐥𝐲𝐦𝐩𝐢𝐜𝐬 𝐆𝐚𝐦𝐞𝐬 𝟐𝟎𝟐𝟐 | 𝐍𝐨𝐫𝐭𝐡𝐞𝐚𝐬𝐭 𝐋𝐢𝐯𝐞 | The 2nd edition of Nagaland Olympic and Paralympics Games 2022, "Football event", kick started today at Indira Gandhi stadium, Kohima, organized by Nagaland Olympic Association (NOA). (Visited 5 times, 1 visits today)
17th August 2022