Imphal to be on India's railway map soon, Union Minister inspects crucial tunnel
After 75 years of India's Independence, it seems the dream of connecting Manipur with India's extensive railway network will finally see the light of the day very soon. As part
After 75 years of India's Independence, it seems the dream of connecting Manipur with India's extensive railway network will finally see the light of the day very soon.
As part of Prime Minister Narendra Modi's grand vision to connect all state capitals of the Northeast with railways by 2023, the ambitious project involves construction of the world's highest railway bridge near Noney village, along with a strategic 10-km railway tunnel at Sangaithel village near Imphal.
The Noney Bridge, which is being constructed across river Ijai, is considered to be an engineering marvel as the tallest pier's height will be of 141 meters, which will surpass the existing record of 139 meter of Mala – Rijeka viaduct at Montenegro in Europe.
Apart from this, the Sangaithel tunnel is also of great significance as after completion, it will be Northeast India's longest railway tunnel.
And to oversee the progress of the project, Union minister of State for Railways Raosaheb Patil Danve today inspected the crucial Sangaithel tunnel along with top officials of the Northeast Frontier Railway.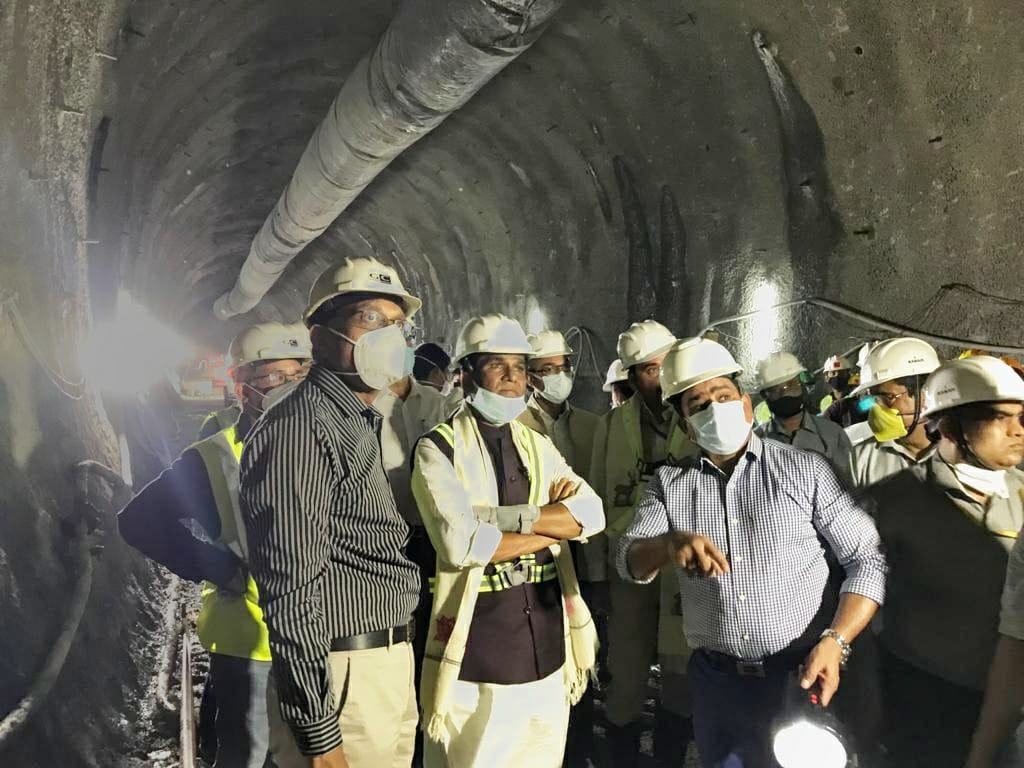 The 10 km-long railway tunnel will play a crucial role in connecting Imphal with the rest of India, with plans already being made to extend the line further up to the border town of Moreh, which is close to Myanmar and is a major trading hub. The line is expected to be a major boon for Manipur's economy, as it would then not be dependent on a lone highway which at one point of time was prone to violence and long bandhs.
Speaking to the media after inspecting the tunnel, the union minister saluted the Prime minister's vision, and informed that work on 7 kilometres of the tunnel is almost complete, and work is going on to complete the remaining 3 kilometres soon.
He also reiterated that the project will be completed within its stipulated deadline of 2023, and added that funds will never be a problem for such a crucial project.
In another boost to the Manipur's railway infrastructure, Union minister Danve and state chief minister N Biren Singh had yesterday virtually flagged off a passenger train service between Jiribam in Manipur to Silchar in Assam.
It needs to be mentioned that the train service in this route was suspended in July 2019 due to low passenger load amidst the Covid-19 pandemic. With new trains, gigantic bridges and brand new railway stations, it seems Manipur is now finally on the fast track to progress.
First Published: 30th August, 2021 22:29 IST
COMMENTS
WE RECOMMEND
Rain fails to dampen festive spirit on Maha Ashtami in Manipur
Durga Puja celebrations have picked up across the Northeast on Maha Ashtami, with lakhs of devotees flocking to puja pandals and praying to Goddess Durga. Meanwhile in Manipur capital Imphal, early morning showers failed to dampen the festive spirit of the people. Despite rains playing spoilsport, devotees thronged the Hiyangthang-Lairembi Temple to offer prayers and […]
03rd October 2022