Flood Free Guwahati: GMC-GMDA to conduct eviction drive in 41 localities
First Published: 7th January, 2023 11:06 IST
Along with the eviction drive, four rivers and a lake -- Bharalu, Mahabharalu, Vahini, Bashistha, and Silsako lake would be cleaned
Good news for Guwahatians, as the Guwahati Municipal Corporation and the Guwahati Metropolitan Development Authority has decided to join hands to make the city flood free. The two civic agencies would conduct an eviction drive in 41 localities of the city and clean five water bodies.
The first eviction drive will be carried out at 15 locations in the next 15 days, Ashok Singhal, minister for Guwahati Development Department said.
Rivers Bharalu, Mahabharalu, Vahini, Bashistha, and the Silsako lake would be cleaned as part of the mission to make Guwahati flood-free.
The city of Guwahati experiences recurrent water logging and inundation as soon as there is a heavy downpour.
The worst affected areas in the city have been Anil Nagar and Nabin Nagar.
Rapid urbanisation with increased housing and construction activities in the city, no proper drainage and garbage management plan have been resulting in the severe flooding of key Guwahati localities. Encroachment of wetlands and banks of river bodies too have led to the flash floods in the city which often have resulted in massive traffic jams bringing the city to a halt.
Assam, with its vast network of rivers, is prone to natural disasters like floods and erosion, which have a negative impact on the overall development of the state.
Also Read : 15 Riflewomen of Assam Rifles in Sudan conflict zone
COMMENTS
WE RECOMMEND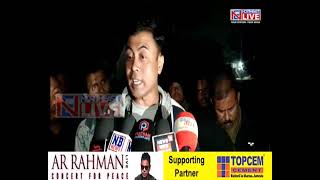 TANTRIKS ON A PYRE IN GUWAHATI
In a shocking incident, two tantriks were found sitting on the pyre at the Betkuchi cremation ground in Guwahati.
28th January 2023