CWG 2018: Sanjitha Chanu clinches second gold for India
First Published: 6th April, 2018 13:56 IST
The Northeast has made India proud with two Manipuri sportswomen winning back to back gold medals at the ongoing Gold Coast Commonwealth Games. It was 'Gold Morning' for Indians on
The Northeast has made India proud with two Manipuri sportswomen winning back to back gold medals at the ongoing Gold Coast Commonwealth Games.
It was 'Gold Morning' for Indians on Day 2 of the Commonwealth Games with Northeast girl Sanjita Chanu winning the second gold for the country in women's 53 kg weightlifting event.The Manipuri star was by far the most dominant competitor in both snatch and clean jerk. Sanjita lifted a total of 192 kg which included a CWG record of 84 kg in the snatch and 108 kg in clean and jerk.
This was India's second gold at this year's CWG. Fellow Manipuri weightlifter Mirabai Chanu had won gold with spectacular record breaking attempts in the women's 48 kg on Thursday.
#NEWSUPDATE | Sanjitha Chanu clinches second gold for #India in women's 53-kg weightlifting event.#IndiaProudOnceAgain pic.twitter.com/q8ewYrGkya

— Northeast Live (@NELiveTV) April 6, 2018
Sanjita and her younger compatriot Mirabai Chanu Saikhom have indeed given the country a golden start at the quadrennial multi-sport event in Australia. A day after Mirabai made light work of the Commonwealth Games record in the women's 48kg category to open India's gold medal tally, Sanjita added to it by finishing on the top step of the podium in the women's 53kg category with a total of 192kg.
Waking up to the news, proud Indians took to Twitter to hail Sanjita Chanu's achievement. Union sports minister also took to Twitter to congratulate Sanjita. Twitter users were ecstatic after Sanjita Chanu won the country's second gold medal in the ongoing Commonwealth Games 2018 in Gold Coast on Friday, April 6.
Meanwhile, Manipur chief minister N Biren Singh has announced a cash award of Rs 15 lakh for both Mirabai Chanu and Sanjita Chanu for winning gold in the Commonwealth Games 2018. The chief minister has announced the cash award in recognition of the achievement by the two Manipur athletes who made the state and the country proud.
COMMENTS
WE RECOMMEND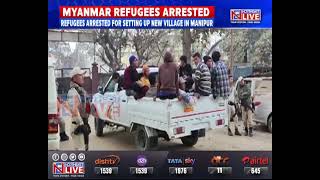 80 illegal immigrants arrested in Manipur
The District Administration of Tengnoupal led by Deputy Commissioner Ranjan Yumnam and Superintendent of Police B Golianmang arrested as many as 80 illegal refugees from Myanmar who had set up a new village inside Manipur.
28th January 2023