China's Xi'an city under lockdown after tally reaches 143
After China's Xi'an city reported 52 new COVID-19 cases on Wednesday, authorities ordered a strict lockdown and instructed its millions to stay home. So far, 143 COVID-19 cases have been
After China's Xi'an city reported 52 new COVID-19 cases on Wednesday, authorities ordered a strict lockdown and instructed its millions to stay home. So far, 143 COVID-19 cases have been reported in Xi'an.
China's National Health Commission (NHC) official Lei Zhenglong had warned that the country cannot "let its guard down" with the Omicron cases being detected.
Under the new lockdown rules imposed today only one member will be allowed to go out from a household to purchase essential items. The authorities have also put restrictions on residents leaving the city.
The move comes as China continues to battle the Delta variant and millions of people across the country have been put under lockdown amid local flare-ups of COVID-19 cases.
The authorities had earlier moved to shut areas in Zhejiang province and put thousands under quarantine after an outbreak was reported. The province which is a major export hub had reported 200 cases of the virus.
Also Read: Omicron Scare: The Netherlands announces Christmas 'lockdown'
The move had severely crippled businesses in the province. Reports claimed at least 70,000 people were put under isolation as thousands faced restrictions in Zhejiang.
Similar measures were also undertaken by authorities in the port city of Ningbo and Shaoxing as business operations were suspended. China had reported the first coronavirus to the World Health Organisation(WHO) on December 31, 2019, since then the country has officially reported 4,636 fatalities.
The country has reported one death due to the virus this year amid tough measures as the Xi regime continues to follow the "zero-Covid" strategy ahead of the Winter Olympics which is due to take place in Beijing in February next year.
(Visited 3 times, 1 visits today)
First Published: 23rd December, 2021 15:12 IST
COMMENTS
WE RECOMMEND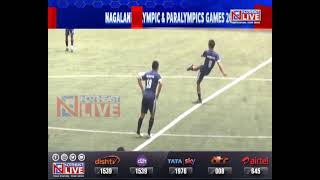 2nd edition of Nagaland Olympic & Paralympics Games 2022 begins today
𝐍𝐚𝐠𝐚𝐥𝐚𝐧𝐝 𝐎𝐥𝐲𝐦𝐩𝐢𝐜 𝐚𝐧𝐝 𝐏𝐚𝐫𝐚𝐥𝐲𝐦𝐩𝐢𝐜𝐬 𝐆𝐚𝐦𝐞𝐬 𝟐𝟎𝟐𝟐 | 𝐍𝐨𝐫𝐭𝐡𝐞𝐚𝐬𝐭 𝐋𝐢𝐯𝐞 | The 2nd edition of Nagaland Olympic and Paralympics Games 2022, "Football event", kick started today at Indira Gandhi stadium, Kohima, organized by Nagaland Olympic Association (NOA). (Visited 5 times, 1 visits today)
17th August 2022