Rhino poaching numbers goes down drastically in Kaziranga National Park
In a piece of good news for animal lovers, the latest reports have shown that cases of rhino poaching in the renowned Kaziranga National Park of Assam have drastically gone
In a piece of good news for animal lovers, the latest reports have shown that cases of rhino poaching in the renowned Kaziranga National Park of Assam have drastically gone down. As per the data released by the authorities, only one rhino was killed by poachers last year. This is being seen as a big achievement by the park authorities who have long struggled to contain the menace of rhino poaching in Kaziranga for a long time.
There is happiness among the authorities and staff of Kaziranga as their efforts are finally bearing fruit with most of the poachers had surrendered before the police since last year.
The drastic drop in poaching cases in Kaziranga National Park is also being seen as a big achievement by Assam Chief Minister Himanta Biswa Sarma who took over the reigns of Assam May last year.
As per the data shared by Chief Minister Sarma on Twitter today in the year 2014, 27 cases of poaching were reported followed by 17 in 2012, 18 in 2016, 6 in 2017, 7 in 2018, 3 in 2019, 2 in 2020.
Notably, the number of rhinos lost to poaching in 2021 was the lowest in 21 years.
(Visited 1 times, 1 visits today)
First Published: 16th January, 2022 14:44 IST
COMMENTS
WE RECOMMEND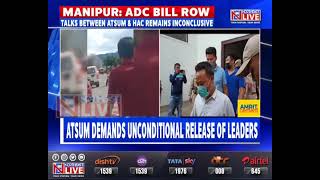 3 round of talks between ATSUM & HAC remains inconclusive
Despite 3 rounds of talks between the All Tribal Students Union Manipur and the Hill Areas Committee over the ADC Bill, 2021 and the arrest of 5 ATSUM leaders, efforts remained futile as the two sides failed to come to an agreement. (Visited 2 times, 2 visits today)
08th August 2022