Manipur Govt launches special scheme for gifted children
First Published: 16th January, 2023 15:49 IST
he state will be the first in the country to implement a central scheme to nurture gifted children
Great news for gifted children in Manipur, the state will be the first in the country to implement a central scheme to nurture gifted children.
As part of the scheme, at least 100 gifted children will be selected from the hills and valley of Manipur and they will be nurtured and honed to become big achievers.
This was informed by state education minister Thounaojam Basantakumar while speaking exclusively to Northeast Live on the sidelines of 'National Startup Day' celebration today at Sangai Hall of Hotel Imphal.
The event was organised by the state's Planning Department and attended by health and family welfare minister Dr. Sapam Ranjan as the chief guest.
Speaking further, education minister Basantakumar highlighted that the centre has sanctioned RS 7 crore for implementation of the scheme.
He said that the gifted children will be kept together in a hostel where their innate talents will further be groomed and promoted.
The education minister further exuded confidence that there can be big achievers and even Nobel Prize winners from Manipur.
While saying that the scheme is a pilot project of the centre, he maintained it will be implemented within two months.
Meanwhile, during the National Startup Day celebration, certificates and financial assistances under the Manipur Startup Scheme were also distributed to beneficiaries.
Also Read: Imphal: First ever Olympian Park dedicated to general public
COMMENTS
WE RECOMMEND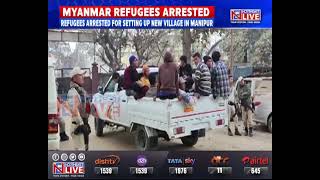 80 illegal immigrants arrested in Manipur
The District Administration of Tengnoupal led by Deputy Commissioner Ranjan Yumnam and Superintendent of Police B Golianmang arrested as many as 80 illegal refugees from Myanmar who had set up a new village inside Manipur.
28th January 2023