Manipur continues its war against drugs, destroys 250-acres of poppy cultivation
First Published: 21st January, 2023 10:53 IST
On Friday, a team of Kangpokpi Police and Forest teams destroyed poppy plantations covering approximately 150 acres in the Koubru western hill range
Manipur has been making headlines for its war against drugs. Chief Minister N Biren Singh has stepped up his efforts to eradicate poppy cultivation in the state by employing herbicide-spraying drones.
On Friday, a team of Kangpokpi Police and Forest teams destroyed poppy plantations covering approximately 150 acres in the Koubru western hill range.
"Kangpokpi Police and Forest teams destroyed more poppy plantations of approximately 150 acres in the Koubru western hill range. Well done! Altogether around 300 acres of poppy plantations were found in this area. More personnel will be sent tomorrow for assistance." CM N Biren Singh tweeted.
In a step to save future generations from illegal drugs, the state is taking this huge step.
"Day or night, hot or cold, no matter the struggles, we have to save our generations from illegal drugs. Please see how our police and forest personnel along with some CSOs are fighting the war against our enemies, the poppy planters and drugs smugglers." CM N Biren Singh tweeted.
On Friday, another team of Tengnoupal District Police, along with 20 personnel from RL Tengnoupal, CDO/TPL, staffs of Tengnoupal Forest Division, and the WPC of Machi Police Station, destroyed around 65 acres of illegal poppy plantations at the Hill Range of T. Molphei.
Earlier on the same day, poppy plants grown on at least 35 acres were destroyed in the T. Kholmun village area, according to government records. However, over 100 acres of poppy plantations are yet to be destroyed.
On the other hand, a joint team of Nungba Police Station, Noney Forest Divisions, SDO Nungba, 39 Assam Rifles, and Rongmei Naga Students Organization Manipur conducted a poppy destruction drive at Longpi village in the Hill Range, during which one acre of poppy plantation was completely destroyed.
During the drive, one poppy cultivator, Thangnetzar Gangte (24) was arrested from Longpi village. A case has been registered for investigation.
Also Read: Manipur govt's crackdown against poppy cultivation: More Village Chiefs to face arrest, drones to be used to destroy crop
COMMENTS
WE RECOMMEND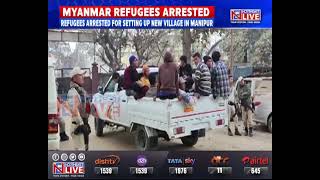 80 illegal immigrants arrested in Manipur
The District Administration of Tengnoupal led by Deputy Commissioner Ranjan Yumnam and Superintendent of Police B Golianmang arrested as many as 80 illegal refugees from Myanmar who had set up a new village inside Manipur.
28th January 2023