Two Rohingyas arrested in human trafficking case
First Published: 9th April, 2018 12:39 IST
The influx of Rohingyas in the Northeast particularly in Manipur has now reached alarming proportions. Rohingya infiltrators are now turning to human trafficking by tricking girls on the pretext of
The influx of Rohingyas in the Northeast particularly in Manipur has now reached alarming proportions. Rohingya infiltrators are now turning to human trafficking by tricking girls on the pretext of giving jobs or any other services.
The sensational fact has surfaced up following the arrest of two Rohingyas from Moreh town in Tengnoupal district that is adjacent to the Indo-Myanmar border. Acting on a tip-off, security personnel rescued a girl hailing from Myanmar.
The girl was tricked in by the duo, who planned to hand her over to a human trafficking racket. However, Mohd Saifullah and Mohd Salam's evil intentions were foiled by the Manipur police.
Meanwhile Manipur Chief Minister N Biren Singh voicing his concern said that he is in talks with the police to curb Rohingya influx.
COMMENTS
WE RECOMMEND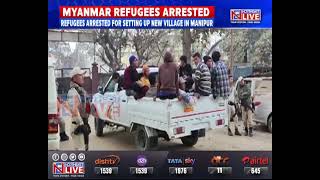 80 illegal immigrants arrested in Manipur
The District Administration of Tengnoupal led by Deputy Commissioner Ranjan Yumnam and Superintendent of Police B Golianmang arrested as many as 80 illegal refugees from Myanmar who had set up a new village inside Manipur.
28th January 2023