Tripura CM visits State Rifles camps, encourage troopers
Tripura Chief Minister Biplab Kumar Deb, who is also in charge of the home department, today visited the headquarters and camps of the Tripura State Rifles at various places in
Tripura Chief Minister Biplab Kumar Deb, who is also in charge of the home department, today visited the headquarters and camps of the Tripura State Rifles at various places in the West Tripura district.
Accompanied by DGP V S Yadav and other senior officials, Chief Minister Biplab Kumar Deb inspected the camps and also interacted with the troopers to take their feedback to improve the functioning of the troops.
Also Read: Manipur Polls: National Peoples Party 1st candidate list out
The Tripura Chief Minister began his visit at the headquarters of the Abhicharan TSR company, then moved on to camps in Barkathal, Borakha, and Binankobra.
He also planted a sapling and tasted the food provided for the troopers in the barracks.
Briefing the media, Chief Minister Deb said his visit was aimed at giving moral support to the troopers so that they serve with more dedication and confidence towards the nation.
(Visited 1 times, 1 visits today)
First Published: 24th January, 2022 21:57 IST
COMMENTS
WE RECOMMEND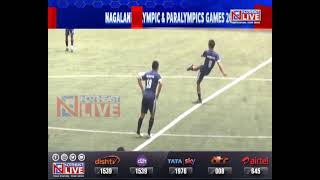 2nd edition of Nagaland Olympic & Paralympics Games 2022 begins today
𝐍𝐚𝐠𝐚𝐥𝐚𝐧𝐝 𝐎𝐥𝐲𝐦𝐩𝐢𝐜 𝐚𝐧𝐝 𝐏𝐚𝐫𝐚𝐥𝐲𝐦𝐩𝐢𝐜𝐬 𝐆𝐚𝐦𝐞𝐬 𝟐𝟎𝟐𝟐 | 𝐍𝐨𝐫𝐭𝐡𝐞𝐚𝐬𝐭 𝐋𝐢𝐯𝐞 | The 2nd edition of Nagaland Olympic and Paralympics Games 2022, "Football event", kick started today at Indira Gandhi stadium, Kohima, organized by Nagaland Olympic Association (NOA). (Visited 5 times, 1 visits today)
17th August 2022