Tripura: BJP activists allegedly beaten up by CPI(M) workers
Eight Bharatiya Janata Party activists were allegedly beaten up by CPI(M) workers. The incident took place last night in Thakurchara Para of Jolaybari in south district of Tripura. According to
Eight Bharatiya Janata Party activists were allegedly beaten up by CPI(M) workers. The incident took place last night in Thakurchara Para of Jolaybari in south district of Tripura.
According to reports, the CPI(M) workers had gone to collect their belonging from the Thakurchara party office which was bulldozed by the BJP led government citing it to be illegal construction.
On hearing the news, the BJP activists reached the site to monitor the activities of the CPI(M) workers. It was when the BJP activists were attacked.
One of them was gravely injured and was rushed to the Gomti District Hospital. The rest were treated at the Jolaybari Primary Health Center.
A case was filed at the Jolaybari Police Station in the wake of the incident. Police are yet to make a arrest.
First Published: 24th May, 2018 21:13 IST
COMMENTS
WE RECOMMEND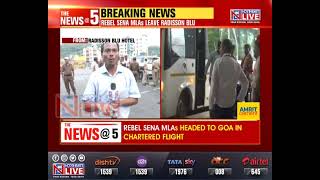 Rebel Sena MLAs camping in Guwahati head to Goa
𝐌𝐚𝐡𝐚𝐫𝐚𝐬𝐡𝐭𝐫𝐚 𝐏𝐨𝐥𝐢𝐭𝐢𝐜𝐚𝐥 𝐂𝐫𝐢𝐬𝐢𝐬 | Rebel Sena MLAs who had been camping in #Guwahati for over a week, have just left Hotel Radisson Blu and headed to the Lokpriya Gopinath Bordoloi International Airport. The rebel MLAs are headed to Goa ahead of tomorrow's floor test. The Rebel MLAs left in as many as 3 buses.
29th June 2022