Indonesia replaces Jakarta with Nusantara as new capital city
Indonesia on Tuesday replaced the capital Jakarta with Nusantara. The plan was formulated as Jakarta is prone to flooding amid climate change. President Joko Widodo has chosen the name of
Indonesia on Tuesday replaced the capital Jakarta with Nusantara. The plan was formulated as Jakarta is prone to flooding amid climate change.
President Joko Widodo has chosen the name of the new city. It is a Javanese term that translates to "archipelago" in Indonesian. It is situated on the island of Borneo, in the jungle of Kalimantan.
Why is Indonesia shifting its capital from Jakarta?
Concerns about the sustainability of Jakarta's congested and rapidly sinking political centre prompted the need for new capital, and the nation's House of Representatives officially passed a bill regarding the relocation on Tuesday.
Suharso Monoarfa, the country's Minister of National Development Planning said that the relocation of the capital city to Kalimantan is based on a number of factors, including regional advantages and welfare. To establish a new economic centre in the middle of the archipelago.
President Joko Widodo initially stated that the capital would be relocated in 2019, but the move was postponed due to the Covid-19 pandemic.
Also Read: China puts Covid patients & their contacts in metal boxes, causes outrage
Jakarta is situated on the swampy ground near the sea, making it especially vulnerable to flooding, and is one of the world's fastest sinking cities, according to the World Economic Forum. Due to the over-extraction of groundwater, the former capital has been sinking at an alarming rate into the Java Sea.
It is also one of the most densely populated urban areas in the world. As per reports, it is home to over 10 million people, with an estimated 30 million in the greater metropolitan area.
Also Read: 'Deltacron' a new variant of Covid emerges in Cyprus
According to the National Planning and Development Agency, the total land area for the new capital city will be around 256,143 hectares (around 2,561 square kilometres), almost all of which will be converted from forest land.
Sri Mulyani, Indonesia's Minister of Finance, stated at a press conference on Tuesday that the new capital city will be developed in five stages. The first stage is expected to begin in 2022 and last until 2024, with development continuing until 2045, according to Minister Monoarfa.
(Visited 3 times, 1 visits today)
First Published: 20th January, 2022 15:16 IST
COMMENTS
WE RECOMMEND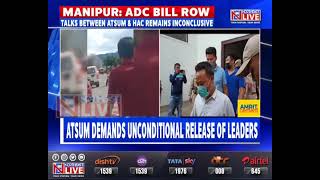 3 round of talks between ATSUM & HAC remains inconclusive
Despite 3 rounds of talks between the All Tribal Students Union Manipur and the Hill Areas Committee over the ADC Bill, 2021 and the arrest of 5 ATSUM leaders, efforts remained futile as the two sides failed to come to an agreement. (Visited 3 times, 3 visits today)
08th August 2022