Nagaland ex-MLA Yanthan joins BJP
First Published: 12th January, 2023 21:32 IST
As the Nagaland Legislative Assembly Elections inch closer, the BJP in Tyui Constituency under Wokha Dist has got a shot in the arm. The biggest political rival and Ex-MLA Yankithung
As the Nagaland Legislative Assembly Elections inch closer, the BJP in Tyui Constituency under Wokha Dist has got a shot in the arm. The biggest political rival and Ex-MLA Yankithung Yanthan has joined the BJP and declared his full support to incumbent Deputy CM, Yanthungo Patton in an event held at Patton's residence in Wokha today. Yanthan along with his supporters have declared full allegiance to the BJP and Patton for the upcoming elections.
COMMENTS
WE RECOMMEND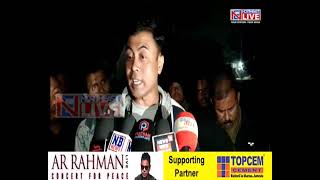 TANTRIKS ON A PYRE IN GUWAHATI
In a shocking incident, two tantriks were found sitting on the pyre at the Betkuchi cremation ground in Guwahati.
28th January 2023