Nagaland: Army carries out investigation at Oting, inspects site of killings
An enquiry team of the Indian Army visited Oting today as part of the probe into the Mon firing incident. The Army enquiry team led by Major General DS Khushwa
An enquiry team of the Indian Army visited Oting today as part of the probe into the Mon firing incident. The Army enquiry team led by Major General DS Khushwa reached the incident site near Oting at around 10 am today and interacted with village guard members and district BJP president N Konyak among others during their 2-hour visit to the area.
This was the first visit by the enquiry team constituted by the Army to probe the Mon firing incidents that led to the killing of 14 people.
The Indian Army had constituted the Court of Inquiry to investigate the Mon incident.
Meanwhile, in an official statement issued on the visit, the Army stated that the inquiry team, headed by the Major General rank officer inspected the site to understand the circumstances leading to the incident.
As per the Army statement, the team also took along the witnesses for a better understanding of the situation & how events could have unfolded.
Subsequently, the team also visited the Tizit Police Station in Mon to meet the cross-section of the society to including civilians, police personnel, and doctors who treated the injured for obtaining valuable information pertaining to the incident.
As per the Indian Army, the Court of Inquiry is progressing expeditiously and all efforts are being made to conclude it at the earliest. Meanwhile, BJP's Mon district president Nyawang Konyak informed Northeast Live that the Army team arrived at the incident site around 10 am and interacted with the village guards. Konyak informed that the locals gave the details of the incident to the Army team and also aired their strong opposition to AFSPA.
Northeast Live spoke to the Public Relations Officer of the Ministry of Defense Lt. Col. Harsh Wardhan Pande for inputs on the progress of the inquiry. In the telephonic conversation with our correspondent Ripunjoy Das, Lt. Col. Pande said the inquiry is moving in a positive direction. He, however, maintained that it cannot be ascertained as to when the process will be over as the inquiry is being carried out in a detailed manner.
In a significant development, the Indian Army will provide access to the Special Investigation Team formed by the Nagaland Government to record statements of the troops in connection with the December 4th Mon firing incident. As per news agency ANI, the SIT will have access to the troops based in Jorhat. Sources also told ANI that from Day 1 the Army had assured the authorities on extending support and cooperation in the investigation.
(Visited 1 times, 1 visits today)
First Published: 29th December, 2021 21:41 IST
COMMENTS
WE RECOMMEND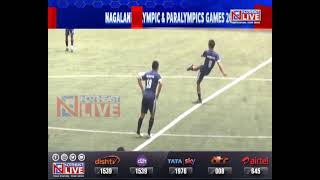 2nd edition of Nagaland Olympic & Paralympics Games 2022 begins today
𝐍𝐚𝐠𝐚𝐥𝐚𝐧𝐝 𝐎𝐥𝐲𝐦𝐩𝐢𝐜 𝐚𝐧𝐝 𝐏𝐚𝐫𝐚𝐥𝐲𝐦𝐩𝐢𝐜𝐬 𝐆𝐚𝐦𝐞𝐬 𝟐𝟎𝟐𝟐 | 𝐍𝐨𝐫𝐭𝐡𝐞𝐚𝐬𝐭 𝐋𝐢𝐯𝐞 | The 2nd edition of Nagaland Olympic and Paralympics Games 2022, "Football event", kick started today at Indira Gandhi stadium, Kohima, organized by Nagaland Olympic Association (NOA). (Visited 5 times, 1 visits today)
17th August 2022