Manipur ambush martyr Viplav Tripathi's last rite performed with state honours in Chhattisgarh
People in large numbers gathered to join the final journey of martyred Colonel Viplav Tripathi in Chhattisgarh's Raigarh today evening.  The last rites Col Tripathi was performed with full state
People in large numbers gathered to join the final journey of martyred Colonel Viplav Tripathi in Chhattisgarh's Raigarh today evening. 
The last rites Col Tripathi was performed with full state honours at his native in Raigarh district. 
Brave-heart Colonel Viplav Tripathi lost his life in the the ambush which took place on November 13 in Manipur. 
The mortal remains of Colonel Viplav Tripathi, his wife Anuja Tripathi, and his six year old son Abir Tripathi, who were killed in a terrorist attack in Manipur, reached Raigarh today evening as the military flight carrying the bodies made an emergency landing at Jorhat airport of Assam on Sunday following a technical snag.
Chants of Bharat Mata ki Jai and Vande Mataram echoed at the final journey of Colonel Viplav Tripathi. 
Emotions ran high as the mortal remains of Tripathi, his wife and his son arrived at home, where civilians from across the district already gathered to pay their rich tribute and last respect to the martyred and his family.
Colonel Viplav Tripathi, the Commanding Officer of Khuga Battalion of Assam Rifles, his wife and son, hailing from Raigarh in Chhattisgarh, besides four personnel of the paramilitary force, were killed in an ambush by terrorists in Manipur's Churachandpur district on November 13.
The officer was travelling in a convoy and was accompanied by two civilians, his wife, and his son when the incident took place. 
The Commanding Officer of 46 Assam Riffles Colonel Viplav Tripathi had visited his forward camp on November 12 and on his way back on November 13, his convoy was ambushed.
As per the army officials, the terrorists first carried out an IED blast to ambush the convoy of 46 Assam Rifles Commanding Officer Colonel Viplav Tripathi and then fired at the vehicles in Churachandpur, Manipur. In the attack, six people were killed — Colonel Viplav Tripathi, his wife, his son, and three soldiers. Also, many others have been left injured. 
The four Assam Rifles personnel killed in the attack were Rifleman (Rfn) Shyamal Das, Rfn Suman Swargiary, Rfn RP Meena and Rfn Khatnei Konyak. 
(Visited 2 times, 1 visits today)
First Published: 15th November, 2021 18:22 IST
COMMENTS
WE RECOMMEND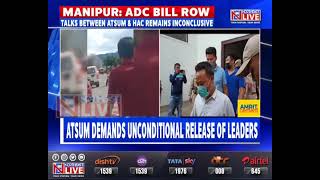 3 round of talks between ATSUM & HAC remains inconclusive
Despite 3 rounds of talks between the All Tribal Students Union Manipur and the Hill Areas Committee over the ADC Bill, 2021 and the arrest of 5 ATSUM leaders, efforts remained futile as the two sides failed to come to an agreement. (Visited 1 times, 1 visits today)
08th August 2022