IPFT stages road blockade
Members of the Indigenous People's Front of Tripura (IPFT), an ally of the BJP, forced a road blockade in the state's Khowai district yesterday, demanding the appointment of a new
Members of the Indigenous People's Front of Tripura (IPFT), an ally of the BJP, forced a road blockade in the state's Khowai district yesterday, demanding the appointment of a new chairman of the Lefunga block, in West Tripura district.
Members of the IPFT staged vehement protests in the state's Lembchhara area while the Lefunga block office was shut down. The road blockade has been a major obstacle to the movement of vehicular traffic in the area.
The protest is slated to continue until local MLA and Law Minister Ratan Lal meets the protesters and reaches a settlement.
First Published: 12th June, 2018 16:17 IST
COMMENTS
WE RECOMMEND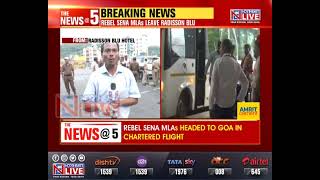 Rebel Sena MLAs camping in Guwahati head to Goa
𝐌𝐚𝐡𝐚𝐫𝐚𝐬𝐡𝐭𝐫𝐚 𝐏𝐨𝐥𝐢𝐭𝐢𝐜𝐚𝐥 𝐂𝐫𝐢𝐬𝐢𝐬 | Rebel Sena MLAs who had been camping in #Guwahati for over a week, have just left Hotel Radisson Blu and headed to the Lokpriya Gopinath Bordoloi International Airport. The rebel MLAs are headed to Goa ahead of tomorrow's floor test. The Rebel MLAs left in as many as 3 buses.
29th June 2022