Fuel crisis hits people of Tripura
After Nagaland, fuel crisis has hit Tripura with the crisis first reported on May 1. The fuel crisis have now turned worse as fuel stations are running dry in many
After Nagaland, fuel crisis has hit Tripura with the crisis first reported on May 1.
The fuel crisis have now turned worse as fuel stations are running dry in many parts of the state with 'no petrol' signboards dangling in almost every pumps.
Since 2-3 days, people of Tripura city have been facing huge crisis of petrol with most of the pumps shut down while others mentioned a shortfall. Due to which people were seen waiting for refilling their vehicle tanks.
Reacting on the issue Tripura State Petroleum Dealer Association President Shyamal Bhattacharya said that this deadlock was triggered by a labour strike.
First Published: 4th May, 2018 8:57 IST
COMMENTS
WE RECOMMEND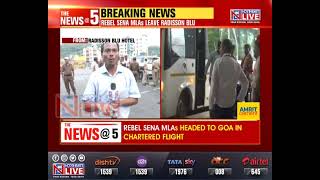 Rebel Sena MLAs camping in Guwahati head to Goa
𝐌𝐚𝐡𝐚𝐫𝐚𝐬𝐡𝐭𝐫𝐚 𝐏𝐨𝐥𝐢𝐭𝐢𝐜𝐚𝐥 𝐂𝐫𝐢𝐬𝐢𝐬 | Rebel Sena MLAs who had been camping in #Guwahati for over a week, have just left Hotel Radisson Blu and headed to the Lokpriya Gopinath Bordoloi International Airport. The rebel MLAs are headed to Goa ahead of tomorrow's floor test. The Rebel MLAs left in as many as 3 buses.
29th June 2022