Tripura: Electricity contractors alleges Non-payment of dues
As many as 250 electricity contractors yesterday demonstrated and gheraoed the office of the Managing Director of Tripura State Electricity Corporation Limited in Agartala while demanding the release of their
As many as 250 electricity contractors yesterday demonstrated and gheraoed the office of the Managing Director of Tripura State Electricity Corporation Limited in Agartala while demanding the release of their pending electricity bills, which they alleged to be around Rs. 60 crores.
The contractors have accused the Tripura State Electricity Corporation Limited of not clearing their pending bills for the last three years, even after the completion of the works to provide free electricity connections under the Pradhan Mantri Sahaj Bijli Har Ghar Yojana in the state. The scheme, also known as the Saubhagya Yojana, aims to provide electricity to every household in the country by 2019 in order to achieve a 24 x 7 power supply for all.
Also Read: Assam-Meghalaya border talks: Both CMs to meet HM Shah today
Meanwhile, Sankar Banik, one of the protesting contractors, while talking to the media, alleged that the TSECL is doing business with their money, and even after the start of the billing process, their dues have not been cleared. Banik further said that they only get assurances each time they protest and agitate against the TSECL.
The TSECL's Technical Officer, Debashis Sarkar, in the presence of the Managing Director, accepted that the bills of the contractors were pending for the last 3 years. Sarkar said that a third party verification to detect the actual number of connections in the ground that has recently been completed would be conducted and the payment would be released by next month.
WATCH:
(Visited 7 times, 1 visits today)
First Published: 20th January, 2022 11:19 IST
COMMENTS
WE RECOMMEND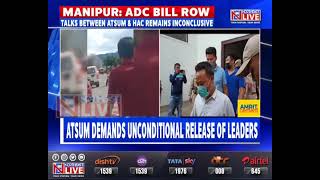 3 round of talks between ATSUM & HAC remains inconclusive
Despite 3 rounds of talks between the All Tribal Students Union Manipur and the Hill Areas Committee over the ADC Bill, 2021 and the arrest of 5 ATSUM leaders, efforts remained futile as the two sides failed to come to an agreement. (Visited 3 times, 3 visits today)
08th August 2022