COVID-19: India crosses 26 crore tests, 11 crore vaccinated so far
In its fight against COVID-19 India has achieved a milestone by conducting more than 26 crore tests. The exact figure stands at 26,06,18,866. Also, in the past 24 hours 14,11,758
In its fight against COVID-19 India has achieved a milestone by conducting more than 26 crore tests. The exact figure stands at 26,06,18,866. Also, in the past 24 hours 14,11,758 tests have been conducted. The government has ramped up the testing capacity to 15 lakh tests per day.
On the other hand at the end of the fourth day of Tika Utsav, the health department in India has administered a whopping 11 crore COVID-19 vaccine doses through over 16 thousand sessions, according to a government press release.
COVID-19 cases in India have witnessed a spike in the last 24 hours with 1,84,372 new cases of infection reported.
Maharashtra, Uttar Pradesh, Chhattisgarh, Delhi, Madhya Pradesh, Karnataka, Kerala, Tamil Nadu, Gujarat and Rajasthan have shown a rise in the COVID daily new cases. 82.04% of the new cases are reported from these 10 states.
The highest daily cases were reported from Maharashtra — 60,212. It is followed by Uttar Pradesh with 17,963 while Chhattisgarh reported 15,121 new cases.
India's total Active Caseload has reached 13,65,704. It now comprises 9.84% of the country's total Positive Cases. A net incline of 1,01,006 cases recorded from the total active caseload in the last 24 hours.
India's cumulative recoveries stand at 1,23,36,036 today. The National Recovery Rate is 88.92% with 82,339 recoveries and 1,027 deaths reported in the past 24 hours. Maximum deaths were reported from Maharashtra with 281 casualties followed by Chhattisgarh that reported 156 deaths.
The positive news is, 11 states and union territories have not reported any COVID19 deaths in the last 24 hours. These include: Ladakh, Dadra and Nagar Harveli and Daman and Diu, Tripura, Meghalaya, Sikkim, Nagaland, Mizoram, Manipur, Lakshadweep, Andaman and Nicobar Islands and Arunachal Pradesh.
(Visited 1 times, 1 visits today)
First Published: 14th April, 2021 14:47 IST
COMMENTS
WE RECOMMEND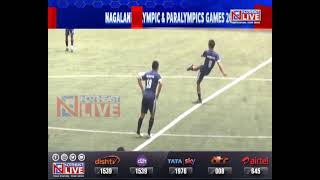 2nd edition of Nagaland Olympic & Paralympics Games 2022 begins today
𝐍𝐚𝐠𝐚𝐥𝐚𝐧𝐝 𝐎𝐥𝐲𝐦𝐩𝐢𝐜 𝐚𝐧𝐝 𝐏𝐚𝐫𝐚𝐥𝐲𝐦𝐩𝐢𝐜𝐬 𝐆𝐚𝐦𝐞𝐬 𝟐𝟎𝟐𝟐 | 𝐍𝐨𝐫𝐭𝐡𝐞𝐚𝐬𝐭 𝐋𝐢𝐯𝐞 | The 2nd edition of Nagaland Olympic and Paralympics Games 2022, "Football event", kick started today at Indira Gandhi stadium, Kohima, organized by Nagaland Olympic Association (NOA). (Visited 5 times, 1 visits today)
17th August 2022