BJP leader receives threat calls
In a shocking incident, ruling BJP leader from Khowai district of Tripura Sudhir Debbarma has alleged that for the past few days he has been receiving death threats from some
In a shocking incident, ruling BJP leader from Khowai district of Tripura Sudhir Debbarma has alleged that for the past few days he has been receiving death threats from some unidentified miscreants.
He alleged that he has been receiving death threats for he being a BJP worker. In this regard the BJP leader has filed a complaint at the Khowai Police Station.
Meanwhile, the incident has triggered a sense of uneasiness and sensation in Khowai district.
First Published: 17th May, 2018 19:57 IST
COMMENTS
WE RECOMMEND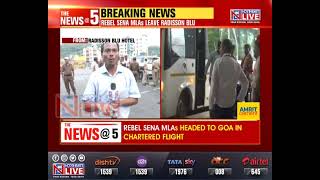 Rebel Sena MLAs camping in Guwahati head to Goa
𝐌𝐚𝐡𝐚𝐫𝐚𝐬𝐡𝐭𝐫𝐚 𝐏𝐨𝐥𝐢𝐭𝐢𝐜𝐚𝐥 𝐂𝐫𝐢𝐬𝐢𝐬 | Rebel Sena MLAs who had been camping in #Guwahati for over a week, have just left Hotel Radisson Blu and headed to the Lokpriya Gopinath Bordoloi International Airport. The rebel MLAs are headed to Goa ahead of tomorrow's floor test. The Rebel MLAs left in as many as 3 buses.
29th June 2022