36 hour Itanagar Bandh: ANYA General Secretary Bengia Tada detained
Authorities in Arunachal Pradesh have detained Bengia Tada, the general secretary of the All Nyishi Youth Association, or ANYA, and arrested 50 activists from Itanagar and 7 from Naharlagun so
Authorities in Arunachal Pradesh have detained Bengia Tada, the general secretary of the All Nyishi Youth Association, or ANYA, and arrested 50 activists from Itanagar and 7 from Naharlagun so far,
It has has been confirmed by District Magistrate Itanagar Capital Region Talo Potom. This comes amid the 36-hour bandh called by the ANYA that is underway in the Intanagar Capital Region.
Notably, Internet services have been suspended in the ICR till tomorrow to prevent a breach of law and order. As per latest inputs, there are no reports of violence so far with the deployment of police personnel at a distance of 200 m across the ICR.
Also Read: Alarming spike in Covid cases in Assam and Mizoram
Earlier, reiterated that the bandh call given by ANYA has already been termed illegal and all preventive measures are being put in place to ensure there is no law and order situation in ICR.
Section 144 has been imposed in the Itanagar Capital Region owing to the bandh, and Indian Reserve Battalion personnel have been deployed to maintain law and order.
The ANYA has called a 36-hour Itanagar Bandh over allegations of corruption against Arunachal Chief Minister Pema Khandu. Even though the state Home Minister, Bamang Felix, has given a point-by-point rebuttal of the ANYA's allegations, the organisation has decided to go ahead with the bandh. All Nyishi MLAs and the apex body of the Nyishis, the Nyishi elite society, have distanced themselves from the ANYA bandh call.
(Visited 1 times, 1 visits today)
First Published: 13th January, 2022 11:05 IST
COMMENTS
WE RECOMMEND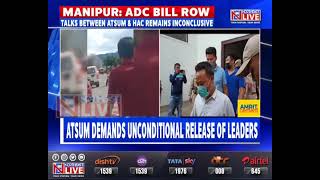 3 round of talks between ATSUM & HAC remains inconclusive
Despite 3 rounds of talks between the All Tribal Students Union Manipur and the Hill Areas Committee over the ADC Bill, 2021 and the arrest of 5 ATSUM leaders, efforts remained futile as the two sides failed to come to an agreement. (Visited 1 times, 1 visits today)
08th August 2022