3 Assam Rifles jawans killed in an ambush in Nagaland's Mon district; NSCN-K, ULFA-I claims responsibility for the attack
First Published: 18th June, 2018 17:20 IST
In a chilling reminder of June 2015 ambush in Manipur's Chandel district, when 18 Indian Army personnel were killed by NSCN-K militants, a joint team of NSCN-K and ULFA-I insurgents
In a chilling reminder of June 2015 ambush in Manipur's Chandel district, when 18 Indian Army personnel were killed by NSCN-K militants, a joint team of NSCN-K and ULFA-I insurgents attacked a convoy of the Assam Rifles and Territorial Army at Aboi in Nagaland's Mon district yesterday.
The insurgents attacked a column of around 40 Assam Rifles jawans and Territorial Army personnel when the joint team was on its way back from an operation.
Three Assam Rifles jawans were killed and three others received serious injuries in the surprise attack. The militants detonated an improvised explosive device (IED) before opening indiscriminate fire from automatic weapons to target the forces.
Soon after the incident, the NSCN-K claimed responsibility for the attack. The NSCN-K also claimed that its cadres were behind the attack carried out on the Assam Rifles post at Lampong Sheanghah village on June 5. The ULFA-I too claimed responsibility for the attack today.
The attack on the forces comes at a time when talks between the Centre and pro-talk Naga rebel groups are at an advanced stage. Meanwhile, locals in the area staged a protest against the attack and called for peace.
This is not the first time that the Assam Rifles have come under the attack of insurgents. Three years back, eight Assam Rifles jawans were killed and half a dozen others were injured in a similar attack by NSCN-K in Mon district.
COMMENTS
WE RECOMMEND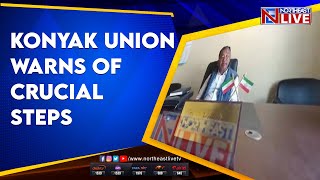 Konyak Union warns of crucial steps
Even after a year, the fight for justice for the victims and their families in the famous Oting incident of Nagaland is still on. President of Konyak Union, Tingthok Konyak said in a statement that the KU and ENPO (Eastern Nagaland People's Organisation) will not give up its quest for justice.
07th December 2022