TIPRA Motha-BJP in a huddle in New Delhi
First Published: 25th January, 2023 15:53 IST
Is Tipraha Indigenous Progressive Regional Alliance or the TIPRA Motha and the BJP set to arrive at an understanding on the former's demand for Greater Tipraland?
Top leaders of both parties are engaged in hard bargaining in New Delhi. Sources said TIPRA Motha Chairman Pradyot Deb Barman met Union Home Minister Amit Shah in New Delhi this morning to discuss the issue. NEDA Convener Himanta Biswa Sarma was also present at the meeting, sources added. Since the BJP has already declared that it was against the division of Tripura and therefore not in favour of the separate Tipraland demand, the two sides are trying to reach a middle ground for an acceptable solution.
COMMENTS
WE RECOMMEND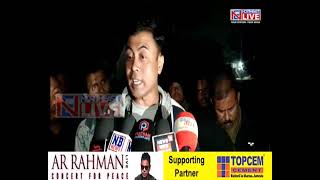 TANTRIKS ON A PYRE IN GUWAHATI
In a shocking incident, two tantriks were found sitting on the pyre at the Betkuchi cremation ground in Guwahati.
28th January 2023