Manipur Govt doctors call off proposed 2 day OPD closure
First Published: 10th January, 2023 18:20 IST
The decision was taken after AMHSDA's meeting with Manipur CM N Biren Singh on Monday
A day after the crucial deliberations with Manipur Chief Minister N Biren Singh, the All Manipur Health Services Doctors' Association (AMHSDA) announced its decision to temporarily put on hold its plans to shut down OPD services for two days.
General Secretary, AMHSDA, Dr. Lolee P. Mao said, "First of all I want to thank the general public of Manipur for understanding and bearing the sufferings with the AMHSDA till today. Our 4-point demands which was proposed to the government, it has almost been concluded, except one point which is the superannuation age of the doctors to 65 years for specialists as well as non-specialist doctors."
Based on the positive outcome of the meeting, the AMHSDA decided to suspend the OPD closure for now. The decision was taken after a meeting of executives of AMHSDA, CMOs, doctors, and nurses at Bishnupur and Thoubal.
The All Manipur Health Services Doctors Association (AMHSDA) has been agitating since November 1, last year in all 16 districts of Manipur, followed by sit-in protests, a relay hunger strike, one-day mass casual leaves by more than 750 doctors, and finally the closure of one-day OPDs in the state.
The 4-point charter of the agitating doctors are:
time-bound promotion
extension of superannuation age to 65 years
making the non-practicing allowance effective from January 1, 2016 as per the 7th Pay Commission
amending the "outdated" Manipur Health Services Rules, 1972
COMMENTS
WE RECOMMEND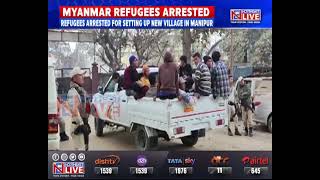 80 illegal immigrants arrested in Manipur
The District Administration of Tengnoupal led by Deputy Commissioner Ranjan Yumnam and Superintendent of Police B Golianmang arrested as many as 80 illegal refugees from Myanmar who had set up a new village inside Manipur.
28th January 2023