5-day Yaoshang festival begins in Manipur
Five day Yaoshang festival began in Manipur on March 19.  The five-day long Yaoshang Festival which is celebrated during Holi, starts on the full moon day of Lamda month that
Five day Yaoshang festival began in Manipur on March 19.  The five-day long Yaoshang Festival which is celebrated during Holi, starts on the full moon day of Lamda month that usually falls in the later part of February or early part of March.
Considered as one of the biggest festivals of Manipur, Yaoshang exhibits a combination of Hindu and folk traditions of the Meitei community. The word Yaoshang means small Thatch hut or straw hut constructed with bamboo which can be witnessed in every locality. After completing the religious rituals, the huts are set aflame thus kickstarting the five days long festivities.
Apart from being a traditional festival, the Yaoshang festival is also an annual sports meet for sports lovers where local clubs across the valley district of the state organise sports events.
(Visited 6 times, 1 visits today)
First Published: 19th March, 2022 10:16 IST
COMMENTS
WE RECOMMEND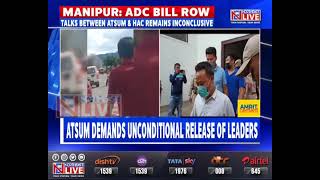 3 round of talks between ATSUM & HAC remains inconclusive
Despite 3 rounds of talks between the All Tribal Students Union Manipur and the Hill Areas Committee over the ADC Bill, 2021 and the arrest of 5 ATSUM leaders, efforts remained futile as the two sides failed to come to an agreement. (Visited 3 times, 3 visits today)
08th August 2022