Assam gears up to celebrate "Uruka" tonight
Assam is all set to celebrate 'Uruka' tonight. Last minute preparations are afoot across the state to observe the occasion with fun and fanfare. People are looking forward to having
Assam is all set to celebrate 'Uruka' tonight. Last minute preparations are afoot across the state to observe the occasion with fun and fanfare. People are looking forward to having a sumptuous Uruka fest tonight to mark the occasion.
Scores thronged the fish market of Guwahati's Uzanbazar as Bhogali fervour gripped Assam. Purchasing for the Uruka feast buyers moved through the fish stalls on the Brahmaputra beach.
Sellers flaunted Barali, Shital, Bhokua, Aari, Rohu, etc. of different sizes for people to choose.
Satisfied customers were seen leaving with their selections as households get ready for the community feast and Magh Bihu festivities.
Additionally, a mascot of the transport department dressed as a Hargilla, or greater adjutant stork, moved through the crowds, spreading the message against "drunk driving."
Assam saw a "zero accident day" in New Years' celebrations, which the government would like to repeat today as well.
However, like the previous year, Bhogali Bihu and Uruka will be observed with due adherence to COVID-19 SOPs released by the state government. However it could not dampen the spirits as people across the state are busy preparing the traditional Bhela Ghars ( thatched structures to be burnt on Magh Bihu) with unique themes.  
(Visited 6 times, 1 visits today)
First Published: 13th January, 2022 11:59 IST
COMMENTS
WE RECOMMEND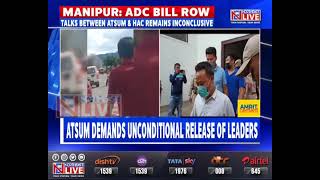 3 round of talks between ATSUM & HAC remains inconclusive
Despite 3 rounds of talks between the All Tribal Students Union Manipur and the Hill Areas Committee over the ADC Bill, 2021 and the arrest of 5 ATSUM leaders, efforts remained futile as the two sides failed to come to an agreement. (Visited 3 times, 3 visits today)
08th August 2022