Manipur: UNC calls for 6 hr shutdown in Naga areas for delay in justice to Oting's victims
The United Naga Council (UNC) has called for a 6 hour "Total Shutdown" in all Naga areas in Manipur, starting from 6 AM till 12 noon on Republic Day, abstaining
The United Naga Council (UNC) has called for a 6 hour "Total Shutdown" in all Naga areas in Manipur, starting from 6 AM till 12 noon on Republic Day, abstaining from participating in the celebration as a part of their "Non-Cooperation Movement."
Also Read: Tripura CM visits State Rifles camps, encourage troopers
UNC, in a statement, said that the step was taken to demonstrate their resentment against the delay and frequent backtracking on the political settlement of the Indo-Naga Framework Agreement, even after the agreement was signed over 6 years ago, and also for not delivering justice to the victims of Nagaland's Oting village till date.
Also Read: Manipur Polls: National Peoples Party 1st candidate list out
The Apex Naga body in Manipur has also asked the general public to enforce the proposed "Total Shutdown" on Republic Day. Moreover, Tribe Hohos, District Apex Organizations, Naga Frontal Organizations, and Regional Organizations have also requested that the directive be strictly enforced in their respective jurisdictions.
WATCH:
(Visited 1 times, 1 visits today)
First Published: 25th January, 2022 9:54 IST
COMMENTS
WE RECOMMEND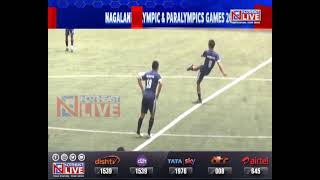 2nd edition of Nagaland Olympic & Paralympics Games 2022 begins today
𝐍𝐚𝐠𝐚𝐥𝐚𝐧𝐝 𝐎𝐥𝐲𝐦𝐩𝐢𝐜 𝐚𝐧𝐝 𝐏𝐚𝐫𝐚𝐥𝐲𝐦𝐩𝐢𝐜𝐬 𝐆𝐚𝐦𝐞𝐬 𝟐𝟎𝟐𝟐 | 𝐍𝐨𝐫𝐭𝐡𝐞𝐚𝐬𝐭 𝐋𝐢𝐯𝐞 | The 2nd edition of Nagaland Olympic and Paralympics Games 2022, "Football event", kick started today at Indira Gandhi stadium, Kohima, organized by Nagaland Olympic Association (NOA). (Visited 5 times, 1 visits today)
17th August 2022