TMC leader Abhishek Banerjee reach Tripura, meet workers targeted during 'alleged' poll violence
The Trinamool Congress is wasting no time in going into campaign mode in Tripura again. After a brief lull in campaigning post the results of Civic Body polls, the party
The Trinamool Congress is wasting no time in going into campaign mode in Tripura again. After a brief lull in campaigning post the results of Civic Body polls, the party has started hectic politicking in the state.
TMC second in-command Abhishek Banerjee today launched a massive attack on the BJP-led government in the state as he arrived on a two-day visit to Tripura.
In a bid to send across a strong message to the BJP, TMC MP Abhishek Banerjee met party workers Teliamura today who were allegedly targeted during violence in the recent Civic body polls.
Banerjee lashed out at the Biplab Deb-led government for alleged goonda raj in the state and said that the saffron party's days are numbered.
Not only this, Abhishek Banerjee also flayed the CPI-M and Congress for failing to play the role of an active Opposition. According to Banerjee, the TMC has replaced both the CPI-M and Congress as Opposition, citing to the fact that his party secured over 27 % vote share in the civic body elections.
Banerjee also resolved to continue the TMC's campaign against the BJP in Tripura.
Earlier after arriving in Agartala, Banerjee paid a visit to the Chaturdas Temple in the city accompanied by TMC leaders and party workers.
Meanwhile Banerjee's programme at Baramjura Eco Park was cancelled by the district administration stating that no permission was taken for the event.
It may be mentioend that this was the first visit by the senior TMC leader in the new year. The TMC is looking
(Visited 1 times, 1 visits today)
First Published: 2nd January, 2022 20:06 IST
COMMENTS
WE RECOMMEND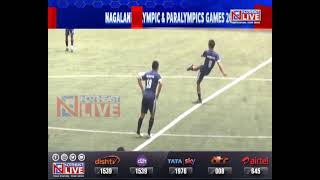 2nd edition of Nagaland Olympic & Paralympics Games 2022 begins today
𝐍𝐚𝐠𝐚𝐥𝐚𝐧𝐝 𝐎𝐥𝐲𝐦𝐩𝐢𝐜 𝐚𝐧𝐝 𝐏𝐚𝐫𝐚𝐥𝐲𝐦𝐩𝐢𝐜𝐬 𝐆𝐚𝐦𝐞𝐬 𝟐𝟎𝟐𝟐 | 𝐍𝐨𝐫𝐭𝐡𝐞𝐚𝐬𝐭 𝐋𝐢𝐯𝐞 | The 2nd edition of Nagaland Olympic and Paralympics Games 2022, "Football event", kick started today at Indira Gandhi stadium, Kohima, organized by Nagaland Olympic Association (NOA). (Visited 5 times, 1 visits today)
17th August 2022