Assam: Sonai AIUDF MLAs praise for CM Sarma raises eyebrows
Sonai constituency's AIUDF MLA, Karimuddin Barbhuyan, publicly praised Chief Minister Himanta Biswa Sarma and Silchar MP, Rajdeep Roy. The Sonai MLA was attending the foundation stone laying ceremony for the
Sonai constituency's AIUDF MLA, Karimuddin Barbhuyan, publicly praised Chief Minister Himanta Biswa Sarma and Silchar MP, Rajdeep Roy.
The Sonai MLA was attending the foundation stone laying ceremony for the Model Women's College at Sonai yesterday. Also attending the event was Silchar MP Rajdeep Roy.
It was during this event that Barbhuyan went on to praise Chief Minister Himanta Biswa Sarma and Silchar MP Rajdeep Roy for providing extensive support to the people of the Sonai constituency.
At the public event, Barbhuyan heaped praise on the Himanta Biswa Sarma-led BJP government in Assam.
Also Read: Assam: Cabinet meet set to take place in Haflong, Covid scenario on focus
Meanwhile, the AIUDF MLA's heaping praise on the BJP government, especially Chief Minister Himanta Biswa Sarma, has raised eyebrows. Speculations have already started doing the rounds that another opposition MLA may jump ship to the BJP as well.
Barbhuyan dispelled all such rumours and stated that he heaped praise on CM Sarma and MP Rajdeep Roy for helping him carry on work in his constituency despite his being an opposition MLA.
The AIUDF MLA said that yesterday's event was an event that people from all parties attended. Defending his praise for the BJP government, Barbhuyan said that he had praised the BJP government and Chief Minister Himanta Biswa Sarma out of genuine gratitude and it should not be taken otherwise.
WATCH:
(Visited 2 times, 1 visits today)
First Published: 19th January, 2022 13:25 IST
COMMENTS
WE RECOMMEND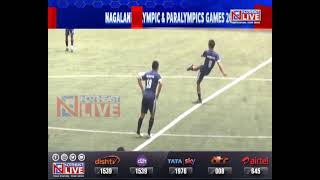 2nd edition of Nagaland Olympic & Paralympics Games 2022 begins today
𝐍𝐚𝐠𝐚𝐥𝐚𝐧𝐝 𝐎𝐥𝐲𝐦𝐩𝐢𝐜 𝐚𝐧𝐝 𝐏𝐚𝐫𝐚𝐥𝐲𝐦𝐩𝐢𝐜𝐬 𝐆𝐚𝐦𝐞𝐬 𝟐𝟎𝟐𝟐 | 𝐍𝐨𝐫𝐭𝐡𝐞𝐚𝐬𝐭 𝐋𝐢𝐯𝐞 | The 2nd edition of Nagaland Olympic and Paralympics Games 2022, "Football event", kick started today at Indira Gandhi stadium, Kohima, organized by Nagaland Olympic Association (NOA). (Visited 5 times, 1 visits today)
17th August 2022