Sikkim's Tamu Lochar festival: CM Tamang graces occasion & extends wishes
Sikkim Chief Minister Prem Singh Tamang and his wife Krishna Rai graced the State Level Tamu Lochar celebrations organised by the All Sikkim Gurung Buddhist Association at the playground of
Sikkim Chief Minister Prem Singh Tamang and his wife Krishna Rai graced the State Level Tamu Lochar celebrations organised by the All Sikkim Gurung Buddhist Association at the playground of Bal Krishna Kasaju Senior Secondary School, Namthang, today.
The Chief Minister extended his warm greetings to the Gurung community for the grand celebration of Tamu Lochar.
He stated that though Sikkim is home for people belonging to different communities inheriting different cultures and traditions, each carrying its own significance, yet all live in total peace and harmony respecting each other's culture and religion.
Also Read: Sikkim : Vaccination for 15-18 years to start from Jan 3, 2022
He added that community festival should be celebrated enthusiastically every year so that the coming generation learn and preserve their traditions.
During the program, Felicitation and Memento were also presented to the Chief Minister and his Spouse for their immense love and support towards the Gurung Community by All Sikkim Gurung Buddhist Association.
The festival had the presence of MP Lok Sabha Indra Hang Subba, Cabinet Ministers, dignitaries, officials and Members of the Association and public at large.
(Visited 3 times, 1 visits today)
First Published: 29th December, 2021 14:20 IST
COMMENTS
WE RECOMMEND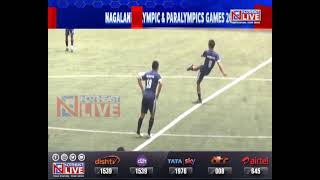 2nd edition of Nagaland Olympic & Paralympics Games 2022 begins today
𝐍𝐚𝐠𝐚𝐥𝐚𝐧𝐝 𝐎𝐥𝐲𝐦𝐩𝐢𝐜 𝐚𝐧𝐝 𝐏𝐚𝐫𝐚𝐥𝐲𝐦𝐩𝐢𝐜𝐬 𝐆𝐚𝐦𝐞𝐬 𝟐𝟎𝟐𝟐 | 𝐍𝐨𝐫𝐭𝐡𝐞𝐚𝐬𝐭 𝐋𝐢𝐯𝐞 | The 2nd edition of Nagaland Olympic and Paralympics Games 2022, "Football event", kick started today at Indira Gandhi stadium, Kohima, organized by Nagaland Olympic Association (NOA). (Visited 5 times, 1 visits today)
17th August 2022