Sikkim snowfall: Over 1000 tourists rescued by Indian Army
Over a thousand tourists who had been stuck in the upper reaches of East Sikkim near the China Border at Nathu La following heavy snow on Saturday have been finally
Over a thousand tourists who had been stuck in the upper reaches of East Sikkim near the China Border at Nathu La following heavy snow on Saturday have been finally rescued by the Indian Army.
The tourists were rescued by the army personnel of the Black Cat Division posted in the area. The tourists were shifted to the Military camp located near 17 Mile and provided with accommodation, food, warm clothing, and also medical assistance.
Also Read: Hero ISL: NEUFC to take on Mumbai City FC
It may be mentioned here that severe snowfall had disrupted normal life in Nathu La, Tsomgo Lake and other adjoining areas on Saturday afternoon, bringing down the temperature to sub Zero levels. It was the season's first snowfall at North and East Sikkim on Saturday afternoon.
Altogether, there was approximately 1027 tourist in 120 vehicles, who got stranded throughout 15 kilometers.
Also Read: Nagaland AFSPA repeal demand: Centre to constitute high-level committee
Meanwhile, the state government has decided to not issue any permits for Changu and beyond Yumthang till the situation normalises. Authorities will not be issuing any permit given the heavy snowfall that caused a connectivity issue in the area.
WATCH:
(Visited 2 times, 1 visits today)
First Published: 26th December, 2021 19:05 IST
COMMENTS
WE RECOMMEND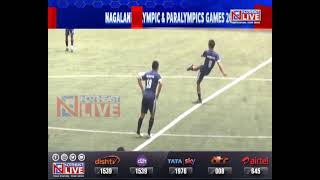 2nd edition of Nagaland Olympic & Paralympics Games 2022 begins today
𝐍𝐚𝐠𝐚𝐥𝐚𝐧𝐝 𝐎𝐥𝐲𝐦𝐩𝐢𝐜 𝐚𝐧𝐝 𝐏𝐚𝐫𝐚𝐥𝐲𝐦𝐩𝐢𝐜𝐬 𝐆𝐚𝐦𝐞𝐬 𝟐𝟎𝟐𝟐 | 𝐍𝐨𝐫𝐭𝐡𝐞𝐚𝐬𝐭 𝐋𝐢𝐯𝐞 | The 2nd edition of Nagaland Olympic and Paralympics Games 2022, "Football event", kick started today at Indira Gandhi stadium, Kohima, organized by Nagaland Olympic Association (NOA). (Visited 5 times, 1 visits today)
17th August 2022