Sikkim Democratic Front meets DGP on 'deteriorating' law and order issue
The Sikkim Democratic Front(SDF) has submitted a memorandum to the DGP of Sikkim Police alleging deteriorating law and order situation in the state. The development comes in the wake of
The Sikkim Democratic Front(SDF) has submitted a memorandum to the DGP of Sikkim Police alleging deteriorating law and order situation in the state.
The development comes in the wake of the January 9 clashes between SDF and Sikkim Kratikari Morcha (SKM). Workers of both parties clashed when former Chief Minister and SDF Chief Pawan Chamling along with his supporters were heading to Sadam in South Sikkim. One SDF supporter had sustained serious injuries in her head in the incident.
The SDF delegation submitted a memorandum to Sikkim DGP N.K. Mishra and apprised him of the deteriorating law and orders situation in the state as well as the safety concerns of Former Chief Minister and SDF Party President Pawan Chamling.
The SDF delegation which met the DGP included Chief Spokesperson MK Subba, Vice-President Incharge of Coordination, Shri Kishore Kharka, General Secretary incharge of West District Tashi Gyatso Bhutia, Vice President of Youth Affairs Dr. Mechung Bhutia, and President, DWC, East District, Karma Tashi Bhutia.
The memorandum apprised the DGP about the rising political tensions in Sikkim along with the breakdown of law and order and the increased safety and security concern surrounding Former Chief Minister Pawan Chamling. The memorandum also highlighted the non-cognizance of the FIR by the SDF party, lodged at the Melli Police Station on the day of the incident.
(Visited 1 times, 1 visits today)
First Published: 11th January, 2022 16:17 IST
COMMENTS
WE RECOMMEND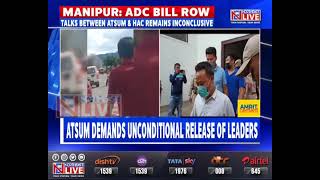 3 round of talks between ATSUM & HAC remains inconclusive
Despite 3 rounds of talks between the All Tribal Students Union Manipur and the Hill Areas Committee over the ADC Bill, 2021 and the arrest of 5 ATSUM leaders, efforts remained futile as the two sides failed to come to an agreement. (Visited 2 times, 2 visits today)
08th August 2022