Sikkim celebrates 47th statehood day in Delhi
𝐒𝐢𝐤𝐤𝐢𝐦 𝐜𝐞𝐥𝐞𝐛𝐫𝐚𝐭𝐞𝐬 𝐒𝐭𝐚𝐭𝐞𝐡𝐨𝐨𝐝 𝐝𝐚𝐲 | The 47th statehood day of Sikkim was celebrated with great fanfare on Monday. The celebration culminated in a grand function in the national capital, New
𝐒𝐢𝐤𝐤𝐢𝐦 𝐜𝐞𝐥𝐞𝐛𝐫𝐚𝐭𝐞𝐬 𝐒𝐭𝐚𝐭𝐞𝐡𝐨𝐨𝐝 𝐝𝐚𝐲 | The 47th statehood day of Sikkim was celebrated with great fanfare on Monday. The celebration culminated in a grand function in the national capital, New Delhi yesterday. A special evening dedicated to Sikkim, with the theme 'Celebration of Sikkim' was organised at the New Moti Bagh Amphitheatre in South Delhi.
First Published: 20th May, 2022 13:39 IST
COMMENTS
WE RECOMMEND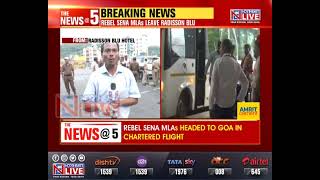 Rebel Sena MLAs camping in Guwahati head to Goa
𝐌𝐚𝐡𝐚𝐫𝐚𝐬𝐡𝐭𝐫𝐚 𝐏𝐨𝐥𝐢𝐭𝐢𝐜𝐚𝐥 𝐂𝐫𝐢𝐬𝐢𝐬 | Rebel Sena MLAs who had been camping in #Guwahati for over a week, have just left Hotel Radisson Blu and headed to the Lokpriya Gopinath Bordoloi International Airport. The rebel MLAs are headed to Goa ahead of tomorrow's floor test. The Rebel MLAs left in as many as 3 buses.
29th June 2022