SFI holds mass protest rally in Tripura
First Published: 27th December, 2022 9:00 IST
SFI state secretary, Sandipan Deb alleged that the ruling BJP leaders are involved in various incidents of rape, drug and violence but are not getting arrested
Reported by Pinaki Das
Opposition CPIM's Students Federation of India (SFI), Tripura State Committee, held a mass protest rally in the capital city on Monday against massive teacher shortages across all schools, as well as crime against women, drug abuse, violence, and no arrests by police because ruling party leaders and supporters are involved in criminal activities.
The demands raised in the day's protest include: an adequate number of teachers in state government schools; reducing the fees of government schools, security of women, children, and students across the state, creating a violence- and drug-free state; and reducing fees in all government and private educational institutes across the state.
SFI state secretary, Sandipan Deb alleged that the ruling BJP leaders are involved in various incidents of rape, drug use, and violence but are not getting arrested.
Hundreds of protesters with flags demanded the government's removal from power, claiming that it had failed to protect the public from violence, drugs, and rising prices, as well as to provide quality education and other basic services.
Edited by Bhargobi Khaund
Also Read : Tripura's tirade against drug continues; 3 apprehended
COMMENTS
WE RECOMMEND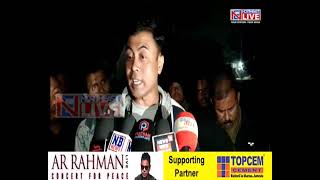 TANTRIKS ON A PYRE IN GUWAHATI
In a shocking incident, two tantriks were found sitting on the pyre at the Betkuchi cremation ground in Guwahati.
28th January 2023