Several houses gutted in major fire in Arunachal's Longding district
As many as 40 houses were completely gutted in a devastating fire that broke out at Senua Noksa village in Longding district of Arunachal Pradesh on Saturday evening. An Anganwadi
As many as 40 houses were completely gutted in a devastating fire that broke out at Senua Noksa village in Longding district of Arunachal Pradesh on Saturday evening.
An Anganwadi centre, a community hall and a Catholic church were also devastated in the blazing inferno. However, the exact number of houses gutted and properties lost or damaged in the fire is still unknown.
The cause of the fire is yet to be ascertained and no loss of life has been reported.
Temporary shelters for the affected people were being arranged at the village chief's house, schools and other houses in the village. There were a total of 43 houses in the village.
An immediate relief of Rs 15,000 was provided to the chief of Senua Noksa for food and shelter for the victims.
Meanwhile, Longding-Pumao MLA Tanpho Wangnaw and Deputy Commissioner Bani Lego along with other officials visited the disaster struck village to take stock of the situation.
A sum of Rs 3,800 each was handed over to the affected families as immediate relief. The chief of Senua Noksa village, Khuwang Wangham received the amount on behalf of the fire victims.
The DC assured all necessary help in reconstruction of the village. He informed that a committee headed by Longding Circle Officer Taya Yullu will supervise and coordinate the rehabilitation and rebuilding of the village.
On 18 March, two persons, including a 6-year-old child, were killed in a massive fire in Longliang Village in Tirap district. The massive fire destroyed more than 100 houses.
(Visited 6 times, 1 visits today)
First Published: 5th April, 2021 14:49 IST
COMMENTS
WE RECOMMEND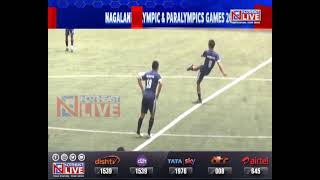 2nd edition of Nagaland Olympic & Paralympics Games 2022 begins today
𝐍𝐚𝐠𝐚𝐥𝐚𝐧𝐝 𝐎𝐥𝐲𝐦𝐩𝐢𝐜 𝐚𝐧𝐝 𝐏𝐚𝐫𝐚𝐥𝐲𝐦𝐩𝐢𝐜𝐬 𝐆𝐚𝐦𝐞𝐬 𝟐𝟎𝟐𝟐 | 𝐍𝐨𝐫𝐭𝐡𝐞𝐚𝐬𝐭 𝐋𝐢𝐯𝐞 | The 2nd edition of Nagaland Olympic and Paralympics Games 2022, "Football event", kick started today at Indira Gandhi stadium, Kohima, organized by Nagaland Olympic Association (NOA). (Visited 5 times, 1 visits today)
17th August 2022