Covid outbreak in Parliament: 875 staffers test positive
A total of 875 staff members of the Parliament have tested positive for Covid-19 ahead of the Budget session. According to sources, 2,847 COVID-19 tests were conducted till January 20
A total of 875 staff members of the Parliament have tested positive for Covid-19 ahead of the Budget session.
According to sources, 2,847 COVID-19 tests were conducted till January 20 with 875 parliamentary staff members testing positive.
Of these, The Rajya Sabha Secretariat conducted a total of 915 tests, with 271 found to be infected with the infection.
It may be noted that Vice President M Venkaiah Naidu tested positive for the infection yesterday in Hyderabad.
Also Read: Anti-poaching operations to be intensified in Kaziranga National Park
As per the tweet of his secretariat, Naidu will be in self-isolation for one week and advised all those who came in contact with him to isolate themselves and get tested.
Meanwhile, the Rajya Sabha Secretariat has reimposed attendance restrictions on officials and staff in order to reduce COVID-19 cases.
50% of officials and staff below the rank of Under Secretary or Executive Officer are required to work from home until the end of the month, according to the directive. They constitute about 65 per cent of the total employees.
People with disabilities and pregnant women are exempt from going to the office. According to the most recent order, the Secretariat's opening and closing times are staggered to avoid crowding.
WATCH:
(Visited 1 times, 1 visits today)
First Published: 24th January, 2022 16:42 IST
COMMENTS
WE RECOMMEND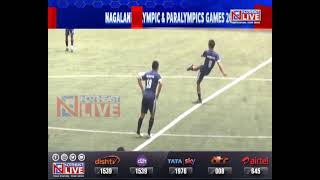 2nd edition of Nagaland Olympic & Paralympics Games 2022 begins today
𝐍𝐚𝐠𝐚𝐥𝐚𝐧𝐝 𝐎𝐥𝐲𝐦𝐩𝐢𝐜 𝐚𝐧𝐝 𝐏𝐚𝐫𝐚𝐥𝐲𝐦𝐩𝐢𝐜𝐬 𝐆𝐚𝐦𝐞𝐬 𝟐𝟎𝟐𝟐 | 𝐍𝐨𝐫𝐭𝐡𝐞𝐚𝐬𝐭 𝐋𝐢𝐯𝐞 | The 2nd edition of Nagaland Olympic and Paralympics Games 2022, "Football event", kick started today at Indira Gandhi stadium, Kohima, organized by Nagaland Olympic Association (NOA). (Visited 5 times, 1 visits today)
17th August 2022