Wheat from India to Afghanistan can now pass through Pakistan's territory: Imran Khan
Pakistan Prime Minister Imran Khan announced on Monday that his government will allow India to deliver a humanitarian supply of 50,000 metric tonnes of wheat to Afghanistan to pass through
Pakistan Prime Minister Imran Khan announced on Monday that his government will allow India to deliver a humanitarian supply of 50,000 metric tonnes of wheat to Afghanistan to pass through the Pakistani territory.
Khan made the announcement on state-run Radio Pakistan. He added that the wheat will pass through the country as soon as modalities with the Indian side are finalised.
Khan was presiding over the inaugural Apex Committee meeting of the newly formed Afghanistan Inter-ministerial Coordination Cell (AICC) in Islamabad.  He also used the occasion to remind the international community of their shared obligation to help Afghanistan avert a humanitarian crisis.
Currently, Pakistan only allows Afghanistan to sell commodities to India with no option for two-way trade through its territories.
Last month, India had announced 50,000 metric tonnes of wheat for Afghanistan as humanitarian assistance and requested Pakistan to ship the food grain via the Wagah border.
Afghanistan's acting foreign minister Amir Khan Muttaqi had also requested Prime Minister Khan, to enable India to transfer the wheat through Pakistan, implying that the Taliban regime was open to receiving humanitarian aid from India.
Over the last decade, India had sent more than 1 million metric tonnes of wheat to Afghanistan.
According to External Affairs Minister S. Jaishankar, who spoke at a United Nations high-level meeting on the humanitarian situation in Afghanistan in September, said that India assisted Afghanistan with 75,000 metric tonnes of wheat last year.
However, with the thawing of relations between New Delhi and Islamabad over the Kashmir problem, there have been reports that Pakistan has obstructed India's efforts to send wheat to the Afghan people.
(Visited 1 times, 1 visits today)
First Published: 23rd November, 2021 16:37 IST
COMMENTS
WE RECOMMEND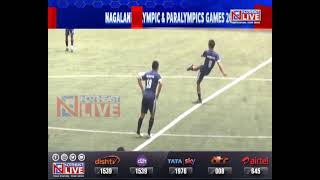 2nd edition of Nagaland Olympic & Paralympics Games 2022 begins today
𝐍𝐚𝐠𝐚𝐥𝐚𝐧𝐝 𝐎𝐥𝐲𝐦𝐩𝐢𝐜 𝐚𝐧𝐝 𝐏𝐚𝐫𝐚𝐥𝐲𝐦𝐩𝐢𝐜𝐬 𝐆𝐚𝐦𝐞𝐬 𝟐𝟎𝟐𝟐 | 𝐍𝐨𝐫𝐭𝐡𝐞𝐚𝐬𝐭 𝐋𝐢𝐯𝐞 | The 2nd edition of Nagaland Olympic and Paralympics Games 2022, "Football event", kick started today at Indira Gandhi stadium, Kohima, organized by Nagaland Olympic Association (NOA). (Visited 5 times, 1 visits today)
17th August 2022