Omicron Alert: No lockdown in Assam for now, assures CM Himanta Biswa Sarma
Assam Chief Minister Dr. Himanta Biswa Sarma said today that no lockdown has been planned for the state for now. He however stressed on following of Covid protocols in view
Assam Chief Minister Dr. Himanta Biswa Sarma said today that no lockdown has been planned for the state for now. He however stressed on following of Covid protocols in view of the rising number of Covid cases in the state and the looming threat of Omicron.
"The COVID-19 cases in the state, as well as the rest of the country, are on the rise, and we need to follow the COVID protocols, but no lockdown will be imposed for the time being. We must move without risking the people's economy and way of life," the Chief Minister stated.
Chief Minister said the Omicron cases are on the rise in the country, and with the mounting cases of the variation, the country is on the verge of experiencing the third wave.
"A meeting with the health department will be conducted on Thursday, to examine the situation in Guwahati and discuss how we can address the Omicron crisis in the state," CM Sarma stated.
No cases of Omicron in Assam till this report was filed. 
It may be mentioned that the COVID-19 cases are fast expanding across the country, with Assam seeing an increase in cases since January 1.
Meanwhile, 475 new Coronivirus (Covid-19) cases has been detected in Assam on January 4, which is an increase of 124 new cases as compared to the total 351 cases detected on Monday. The new cases have been detected out of a total of 36,781 tests done in the last 24 hours. A total of 190 cases have been detected in Kamrup (metro) and three new Covid deaths have also been reported.
(Visited 1 times, 1 visits today)
First Published: 5th January, 2022 17:34 IST
COMMENTS
WE RECOMMEND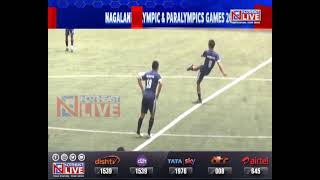 2nd edition of Nagaland Olympic & Paralympics Games 2022 begins today
𝐍𝐚𝐠𝐚𝐥𝐚𝐧𝐝 𝐎𝐥𝐲𝐦𝐩𝐢𝐜 𝐚𝐧𝐝 𝐏𝐚𝐫𝐚𝐥𝐲𝐦𝐩𝐢𝐜𝐬 𝐆𝐚𝐦𝐞𝐬 𝟐𝟎𝟐𝟐 | 𝐍𝐨𝐫𝐭𝐡𝐞𝐚𝐬𝐭 𝐋𝐢𝐯𝐞 | The 2nd edition of Nagaland Olympic and Paralympics Games 2022, "Football event", kick started today at Indira Gandhi stadium, Kohima, organized by Nagaland Olympic Association (NOA). (Visited 5 times, 1 visits today)
17th August 2022