Omicron Alert: Night curfew imposed In UP and Madhya Pradesh
A night curfew has been announced in poll-bound Uttar Pradesh – from 11 pm to 5 am, starting tomorrow (Saturday) – amid growing concern over the spread of the Omicron
A night curfew has been announced in poll-bound Uttar Pradesh – from 11 pm to 5 am, starting tomorrow (Saturday) – amid growing concern over the spread of the Omicron coronavirus variant.
In addition, UP also said only 200 people could attend marriages and social functions, at which all necessary Covid-safety protocols must be followed. Government sources have also said that Chief Minister Yogi Adityanath also asked all shopkeepers and traders to follow the "no mask, no goods" policy.
Also Read: Assam-Meghalaya border issue: Regional committees to submit report by Jan 15
Officials have also been asked to ensure that all those arriving in UP from abroad, and other states, are tested for Covid, with particular attention to be paid to railway and bus stations.
Yesterday Madhya Pradesh Chief Minister Shivraj Chouhan said a nightly curfew of 11 pm to 5 am would be enforced effective immediately. The state hasn't yet recorded an Omicron Covid case.
Meanwhile, the number of coronavirus cases in Madhya Pradesh reached 7,93,532 on Tuesday after 23 people were detected with the infection, while one death took the toll to 10,530.
Also Read: Sikkim doctor attack: Cardiologist Dr. Sanjay Upreti passes away
Till now, 7,82,815 people have been discharged from hospitals post-recovery, including 19 during the day, leaving the state with an active tally of 187.
With 53,638 samples being examined during the day, the number of tests carried out in MP went up to 2,30,91,740.
As many as 9, 89, 63,093 coronavirus vaccine doses have been administered so far in the state, including 2,73,480 on Tuesday, a government release said.
(Visited 1 times, 1 visits today)
First Published: 24th December, 2021 15:27 IST
COMMENTS
WE RECOMMEND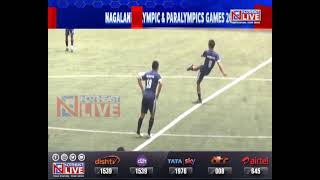 2nd edition of Nagaland Olympic & Paralympics Games 2022 begins today
𝐍𝐚𝐠𝐚𝐥𝐚𝐧𝐝 𝐎𝐥𝐲𝐦𝐩𝐢𝐜 𝐚𝐧𝐝 𝐏𝐚𝐫𝐚𝐥𝐲𝐦𝐩𝐢𝐜𝐬 𝐆𝐚𝐦𝐞𝐬 𝟐𝟎𝟐𝟐 | 𝐍𝐨𝐫𝐭𝐡𝐞𝐚𝐬𝐭 𝐋𝐢𝐯𝐞 | The 2nd edition of Nagaland Olympic and Paralympics Games 2022, "Football event", kick started today at Indira Gandhi stadium, Kohima, organized by Nagaland Olympic Association (NOA). (Visited 5 times, 1 visits today)
17th August 2022