New SOP will be issued in Assam if Covid cases increase : Health Minister
#Assam | The Assam government will issue new SOPs if Covid-19 transmission increases in the state. State Health Minister Keshab Mahanta today said that the health department is fully equipped
#Assam | The Assam government will issue new SOPs if Covid-19 transmission increases in the state. State Health Minister Keshab Mahanta today said that the health department is fully equipped to deal with any eventuality, in case there is an outbreak of 4th wave of COVID-19. However, the state is not experiencing any influence of the 4th COVID-19 wave. 
First Published: 1st May, 2022 19:13 IST
COMMENTS
WE RECOMMEND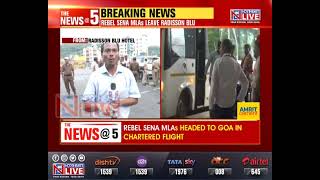 Rebel Sena MLAs camping in Guwahati head to Goa
𝐌𝐚𝐡𝐚𝐫𝐚𝐬𝐡𝐭𝐫𝐚 𝐏𝐨𝐥𝐢𝐭𝐢𝐜𝐚𝐥 𝐂𝐫𝐢𝐬𝐢𝐬 | Rebel Sena MLAs who had been camping in #Guwahati for over a week, have just left Hotel Radisson Blu and headed to the Lokpriya Gopinath Bordoloi International Airport. The rebel MLAs are headed to Goa ahead of tomorrow's floor test. The Rebel MLAs left in as many as 3 buses.
29th June 2022