NEIGRIHMS streamlining procurement process to avoid 'scams': Dir Nalin Mehta
NEIGRIHMS Director Prof Nalin Mehta aims to go by the book and play by the rules and do whatever is possible in the best interest of the patients in order
NEIGRIHMS Director Prof Nalin Mehta aims to go by the book and play by the rules and do whatever is possible in the best interest of the patients in order to steer the institute away from any form of controversies.
The premier institute of the North East, in the past, was smeared in controversies around alleged implant scam in the hospital. The NEIGRIHMS Director informed that the procurement process with regards to materials, devices, medicines for the patients and other equipment for the institutions are being streamlined.
Mehta said that his priority would be to work for the betterment of the hospital staff as well as to improve the facilities at NEIGRIHMS. He said the premier institute is looking forward to augmenting the investigative facility so that patients do not have to refer to other institutions outside Meghalaya for treatment.
He further added that the number of operation theaters at NEIGRIHMS which are active on daily basis has increased. The hospital is also coming up with 8 new state-of-the-art modular ones in the recent future.
In terms of preparedness to fight the Covid-19 pandemic, NEIGRIHMS Director stated that the premier health institute is well prepared with adequate beds, equipment, and manpower to fight the third wave of covid.
(Visited 3 times, 1 visits today)
First Published: 13th January, 2022 16:09 IST
COMMENTS
WE RECOMMEND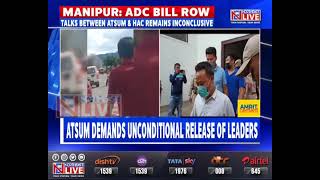 3 round of talks between ATSUM & HAC remains inconclusive
Despite 3 rounds of talks between the All Tribal Students Union Manipur and the Hill Areas Committee over the ADC Bill, 2021 and the arrest of 5 ATSUM leaders, efforts remained futile as the two sides failed to come to an agreement. (Visited 3 times, 3 visits today)
08th August 2022