Nagaland Cabinet adds three new districts – Tseminyu, Niuland and Chumukedima
Nagaland Cabinet today announced the formation of three new districts in the state bringing their total number to 15. Tseminyu, Niuland, and Chumukedima are now the 13th, 14th, and 15th
Nagaland Cabinet today announced the formation of three new districts in the state bringing their total number to 15. Tseminyu, Niuland, and Chumukedima are now the 13th, 14th, and 15th districts of Nagaland.
While Tseminyu has been carved out of Kohima, Niuland and Chumukedima have been formed by trifurcating Dimapur.
Also Read: PM Modi lays foundation stone of ₹ 36,230 crore Ganga Expressway project
Nagaland Ministers Jacob Zhimomi & Tseminyu R Khing, took to Twitter to share the news and thank the government for creating the new districts
"Delighted to share that Niuland and Chumukedima under my assembly constituency has been created as a new districts today by the state cabinet. Thankful and grateful to HCM @Neiphiu_Rio ji. The best Christmas gift ever!", Zimoni who represents the Dimapur constituency wrote on Twitter .
Also Read: Meghalaya: Activist, Author Phidalia Toi appointed as new Chairperson of MSCW
R. Khing who is an MLA from Tseminyu called it a historic day and expressed gratitude on behalf of the Renma Nagas calling it a fulfilment of a 'long-cherished dream'.
(Visited 1 times, 1 visits today)
First Published: 18th December, 2021 16:18 IST
COMMENTS
WE RECOMMEND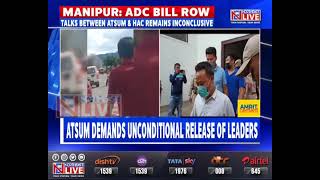 3 round of talks between ATSUM & HAC remains inconclusive
Despite 3 rounds of talks between the All Tribal Students Union Manipur and the Hill Areas Committee over the ADC Bill, 2021 and the arrest of 5 ATSUM leaders, efforts remained futile as the two sides failed to come to an agreement. (Visited 3 times, 3 visits today)
08th August 2022