Nagaland Assembly passes unanimous resolution for Repeal of AFSPA from state & Northeast
The Nagaland Legislative Assembly today unanimously resolved to demand that the Government of India repeals the Armed Forces Special Powers Act, 1958 from the Northeast, and specifically from Nagaland, in
The Nagaland Legislative Assembly today unanimously resolved to demand that the Government of India repeals the Armed Forces Special Powers Act, 1958 from the Northeast, and specifically from Nagaland, in order to strengthen the ongoing efforts to find a peaceful political settlement to the Naga political issue.
The resolution for repeal of AFSPA comes following the killing of 14 civilians in Mon district by security forces earlier this month.
In fact the Nagaland Assembly that met for a one-day special session adopted a 5-point resolution today. Apart from resolving to demand for AFSPA repeal, the House condemned the killings in Oting village area that led to the death of 13 civilians.
The House also called for an apology from the appropriate authority, along with an assurance that justice will be delivered according to law.
The House appealed citizens of Mon district, civil societies, citizens of the state and mass-based organizations to extend co-operation to the government and its agencies, in collective efforts to demand justice, and to restore normalcy in the interest of all citizens. The House also appreciated the support of citizens and CSOs in their demand for repealing AFSPA.
Significantly, the House also appealed to the negotiating parties involved in Naga Peace Talks to bring the dialogue to a logical conclusion by reaching a settlement that is honourable, inclusive and acceptable.
Addressing the House Chief Minister Neiphiu Rio said that in view of the improved situation in Nagaland, the State Government has been consistently taking the stand that there is no need for declaring Nagaland as a 'disturbed area' under Section 3 of the AFSPA.
Stating that the current declaration of Nagaland as 'Disturbed Area' is going to expire by the end of this month, Rio hoped that this time the Central Government will decide not to renew or extend it any more. Removing AFPSA will also contribute towards confidence building, strengthening trust and removing the feeling of alienation in the people's mind, Rio added.
Meanwhile, Rio stated that while ex-gratia and employment to the next of kin of the deceased families has been assured by the Central Government, in case the families of the deceased prefer a job in the State Government, arrangements will be made accordingly.
(Visited 3 times, 1 visits today)
First Published: 20th December, 2021 19:46 IST
COMMENTS
WE RECOMMEND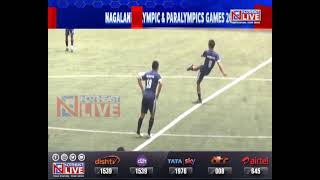 2nd edition of Nagaland Olympic & Paralympics Games 2022 begins today
𝐍𝐚𝐠𝐚𝐥𝐚𝐧𝐝 𝐎𝐥𝐲𝐦𝐩𝐢𝐜 𝐚𝐧𝐝 𝐏𝐚𝐫𝐚𝐥𝐲𝐦𝐩𝐢𝐜𝐬 𝐆𝐚𝐦𝐞𝐬 𝟐𝟎𝟐𝟐 | 𝐍𝐨𝐫𝐭𝐡𝐞𝐚𝐬𝐭 𝐋𝐢𝐯𝐞 | The 2nd edition of Nagaland Olympic and Paralympics Games 2022, "Football event", kick started today at Indira Gandhi stadium, Kohima, organized by Nagaland Olympic Association (NOA). (Visited 5 times, 1 visits today)
17th August 2022