Myanmar cops who fled to Mizoram say they defied orders to fire on protesters
Policemen from Myanmar who have crossed over to Indian state Mizoram said that the military in Myanmar had ordered them to open fire on civilian protesters opposed to the military
Policemen from Myanmar who have crossed over to Indian state Mizoram said that the military in Myanmar had ordered them to open fire on civilian protesters opposed to the military coup in the southeast Asian nation.
Defying such orders, several policemen have crossed over to Mizoram.
Northeast Live caught up with some such policemen from Myanmar currently looked after by local NGOs on humanitarian grounds.
The police man from Tidim in Myanmar's Halkha state said that they would be killed if they return. He also feared for the life of his family members back home.
It may be mentioned that it is not the first instance that cops and fire fighters from military coup hit Myanmar have entered India seeking refuge.
Last week, the Ministry of Home Affairs had directed 4 states bordering Myanmar namely-Mizoram, Manipur, Nagaland and Arunachal Pradesh to take measures to prevent refugees from entering except on humanitarian grounds.
The MHA said the states were not authorized to accord refugee status to anyone entering the country from Myanmar, as India is not a signatory to the U.N. Refugee Convention of 1951 or its 1967 protocol.
(Visited 1 times, 1 visits today)
First Published: 19th March, 2021 20:56 IST
COMMENTS
WE RECOMMEND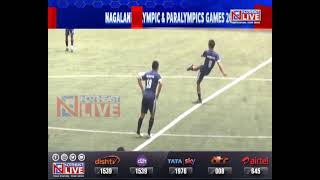 2nd edition of Nagaland Olympic & Paralympics Games 2022 begins today
𝐍𝐚𝐠𝐚𝐥𝐚𝐧𝐝 𝐎𝐥𝐲𝐦𝐩𝐢𝐜 𝐚𝐧𝐝 𝐏𝐚𝐫𝐚𝐥𝐲𝐦𝐩𝐢𝐜𝐬 𝐆𝐚𝐦𝐞𝐬 𝟐𝟎𝟐𝟐 | 𝐍𝐨𝐫𝐭𝐡𝐞𝐚𝐬𝐭 𝐋𝐢𝐯𝐞 | The 2nd edition of Nagaland Olympic and Paralympics Games 2022, "Football event", kick started today at Indira Gandhi stadium, Kohima, organized by Nagaland Olympic Association (NOA). (Visited 5 times, 1 visits today)
17th August 2022