Meghalaya : Former CM and TMC leader Mukul Sangma tests positive for Covid-19
Former Meghalaya Chief Minister and TMC leader, Mukul Sangma has tested positive for COVID-19. Taking to Twitter yesterday, Sangma announced that he had tested for COVID-19. Sangma went on to
Former Meghalaya Chief Minister and TMC leader, Mukul Sangma has tested positive for COVID-19. Taking to Twitter yesterday, Sangma announced that he had tested for COVID-19. Sangma went on to state that both he and his wife have tested positive.
He said they are both fine and have mild symptoms. Sangma also called upon people who came into close contact with him recently to get themselves tested and go into isolation.
Also Read: Northeast Covid Alert: Cases spike in Assam, Mizoram and Manipur
"I,and my wife, both have tested positive for COVID-19. Both of us are doing well except 4 mild symptoms. Friends who've come into close contact with us are requested 2 self isolate 4 few days & observe 4 any symptoms & get tested if needed @davidlaitphlang @AITCofficial", tweeted Sangma.
Meanwhile, Meghalaya reported 320 fresh COVID cases in the last 24 hours. This takes the active COVID tally to 2,419. Moreover, 3 COVID-19 related deaths were also reported from the state during the same time period, taking the death toll to 1,518.
Meanwhile, 320 patients recovered from the illness in the last 24 hours.
WATCH:
(Visited 2 times, 1 visits today)
First Published: 30th January, 2022 10:01 IST
COMMENTS
WE RECOMMEND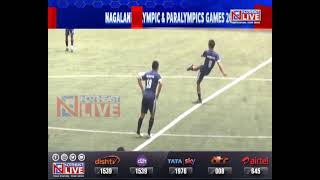 2nd edition of Nagaland Olympic & Paralympics Games 2022 begins today
𝐍𝐚𝐠𝐚𝐥𝐚𝐧𝐝 𝐎𝐥𝐲𝐦𝐩𝐢𝐜 𝐚𝐧𝐝 𝐏𝐚𝐫𝐚𝐥𝐲𝐦𝐩𝐢𝐜𝐬 𝐆𝐚𝐦𝐞𝐬 𝟐𝟎𝟐𝟐 | 𝐍𝐨𝐫𝐭𝐡𝐞𝐚𝐬𝐭 𝐋𝐢𝐯𝐞 | The 2nd edition of Nagaland Olympic and Paralympics Games 2022, "Football event", kick started today at Indira Gandhi stadium, Kohima, organized by Nagaland Olympic Association (NOA). (Visited 5 times, 1 visits today)
17th August 2022