Revenge Saga: Monkeys kill 250 canines after a baby monkey is killed
Two monkeys have now hit the headlines for allegedly killing over 250 dogs and are now in the custody of the Forest Department in Maharashtra's Beed. The killings are believed
Two monkeys have now hit the headlines for allegedly killing over 250 dogs and are now in the custody of the Forest Department in Maharashtra's Beed. The killings are believed to be an act of revenge after some dogs killed an infant monkey.
Beed Forest Officer, Sachin Kand said the monkeys will be released in a nearby forest. He added that the two monkeys involved in the killing of dogs have been captured by a Nagpur Forest Department team in Beed.
Also Read: Omicron Scare : The Netherlands announces Christmas 'lockdown'
As per the villagers, the monkeys had been raising their younglings in the Lavool village in the last two to three months, there have been incidents where the langurs roaming in the area would catch puppies and take them to a place with considerable height to throw them from there.
At least 250 dogs have been killed so far villagers informed. The villagers contacted Dharur's Forest Department after the monkeys began picking up school-going children as well, creating panic.
WATCH:
(Visited 5 times, 1 visits today)
First Published: 19th December, 2021 18:25 IST
COMMENTS
WE RECOMMEND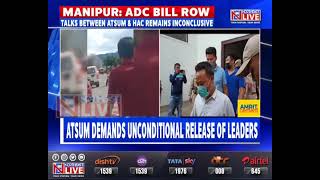 3 round of talks between ATSUM & HAC remains inconclusive
Despite 3 rounds of talks between the All Tribal Students Union Manipur and the Hill Areas Committee over the ADC Bill, 2021 and the arrest of 5 ATSUM leaders, efforts remained futile as the two sides failed to come to an agreement. (Visited 3 times, 3 visits today)
08th August 2022