Mon Killings: Konyak Summit adopts several key resolutions
The ensure justice for the victims of Mon Killings, Konyak civil society groups adopted several key resolutions in an all Konyak Summit held on January 14. In a release issued
The ensure justice for the victims of Mon Killings, Konyak civil society groups adopted several key resolutions in an all Konyak Summit held on January 14. In a release issued jointly by the Konyak Union, the Konyak Students Union and the KNSK or Konyak Mothers Association it was resolved to demand that a genocide park be built to preserve the mortal remains of the 14 people killed by security forces on December 4th.
The Konyak Summit was held following the expiry of the 30-day ultimatum served to the Government to ensure justice for the victims of Mon Killings. In today's summit, the Konyak groups also resolved to extend this ultimatum period by another 15 days with effect from 15th January.
Meanwhile, if justice is not served within the next 15 days, in accordance with the ENPO resolution dated 14th Dec 2021, the Konyaks shall be obligated to abstain from all national events within its customary jurisdiction as endorsed upon by the ENPO, the release said. Non-cooperation with security forces will continue till justice is delivered, the Konyak organisations further resolved.
The Konyaks once again reaffirmed the stand that "all Ranks of security forces involved in Oting killing must be prosecuted in the applicable civil court" and "justice taken report must be brought before the public domain", they said.
The summit also resolved to demand that all Designated Army camps within the Mon district located within the civilian inhabited area must be relocated. It also demanded that the SIT and Army's Court of Inquiry reports must be shared with the Konyak Union for perusal after necessary formalities are completed by both parties. The summit also resolved to submit a memorandum to the State Government in this regard.
(Visited 1 times, 1 visits today)
First Published: 15th January, 2022 10:26 IST
COMMENTS
WE RECOMMEND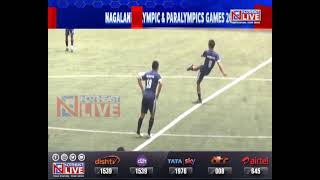 2nd edition of Nagaland Olympic & Paralympics Games 2022 begins today
𝐍𝐚𝐠𝐚𝐥𝐚𝐧𝐝 𝐎𝐥𝐲𝐦𝐩𝐢𝐜 𝐚𝐧𝐝 𝐏𝐚𝐫𝐚𝐥𝐲𝐦𝐩𝐢𝐜𝐬 𝐆𝐚𝐦𝐞𝐬 𝟐𝟎𝟐𝟐 | 𝐍𝐨𝐫𝐭𝐡𝐞𝐚𝐬𝐭 𝐋𝐢𝐯𝐞 | The 2nd edition of Nagaland Olympic and Paralympics Games 2022, "Football event", kick started today at Indira Gandhi stadium, Kohima, organized by Nagaland Olympic Association (NOA). (Visited 5 times, 1 visits today)
17th August 2022